User guide
Finding your way around the guide
To navigate between pages, click or tap the arrows to go forwards to the next page or backwards to the previous one. The arrows can be found either side of the page and at the bottom, too (circled in green, below).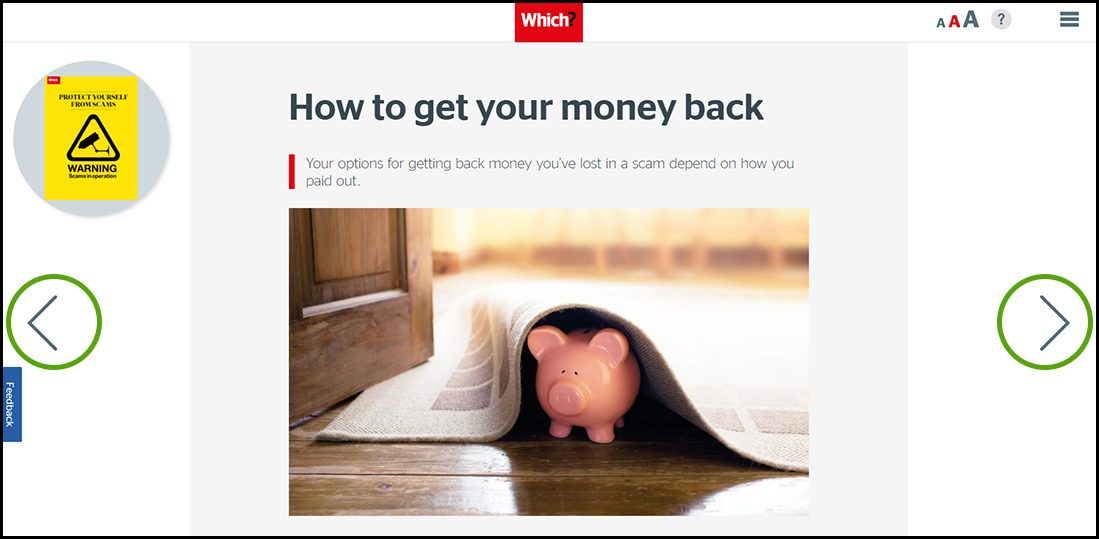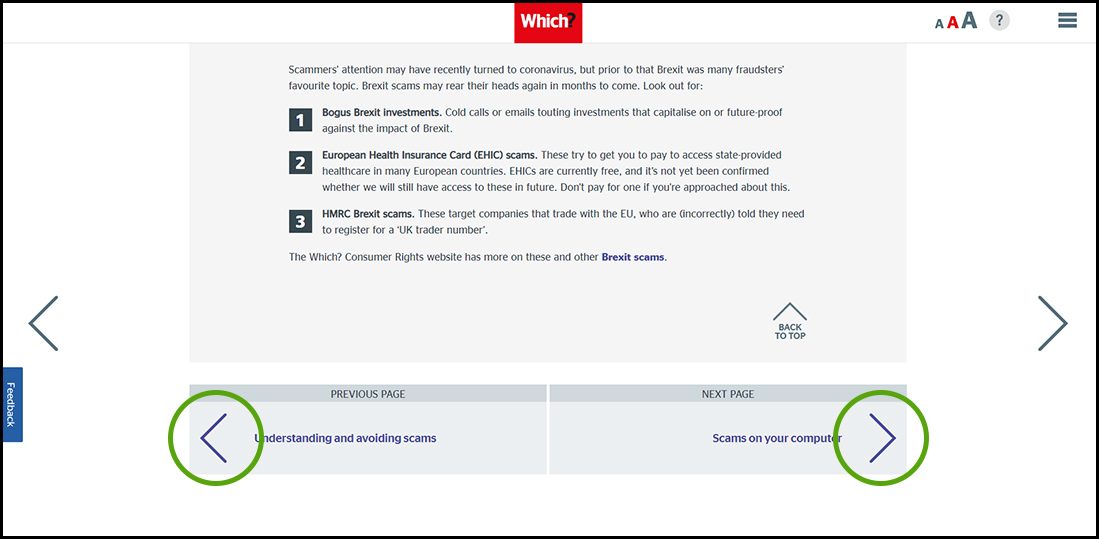 Menu/table of contents
Click or tap on the three horizontal lines in the top-right of your screen to open the main menu/table of contents. This icon is always visible whether you're using a computer, tablet or smartphone. The menu will open on top of the page you're on. Click on any section title to visit that section. Click the cross at any time to close the table of contents.
Text size
On a computer, you'll see three different sized letter 'A's in the top-right of your screen. On a smartphone or tablet these are visible when you open the menu (see above). If you're having trouble reading the guide, click or tap on each of the different 'A's to change the size of the text to suit you.
Pictures
On some images you'll see a blue double-ended arrow icon. Clicking or tapping on this will expand the picture so you can see more detail. Click or tap on the blue cross to close the expanded image.
Where we think a group of images will be most useful to you, we've grouped them together in an image gallery. Simply use the blue left and right arrows to scroll through the carousel of pictures.
Links
If you see a word or phrase that's bold and dark blue, you can click or tap on it to find out more. The relevant website will open in a new tab.
Jargon
If you see a word or phrase underlined, click or tap on the word and small window will pop up with a short explanation. Close this pop-up by clicking or tapping the cross in the corner.
Help
On a computer, you'll see a question mark icon in the top-right of your screen. On a smartphone or tablet this is visible when you open the menu (see above).
Clicking or tapping on the question mark will open this user guide. It opens on top of the page you're on and you can close it any time by clicking or tapping the cross in the top-right corner.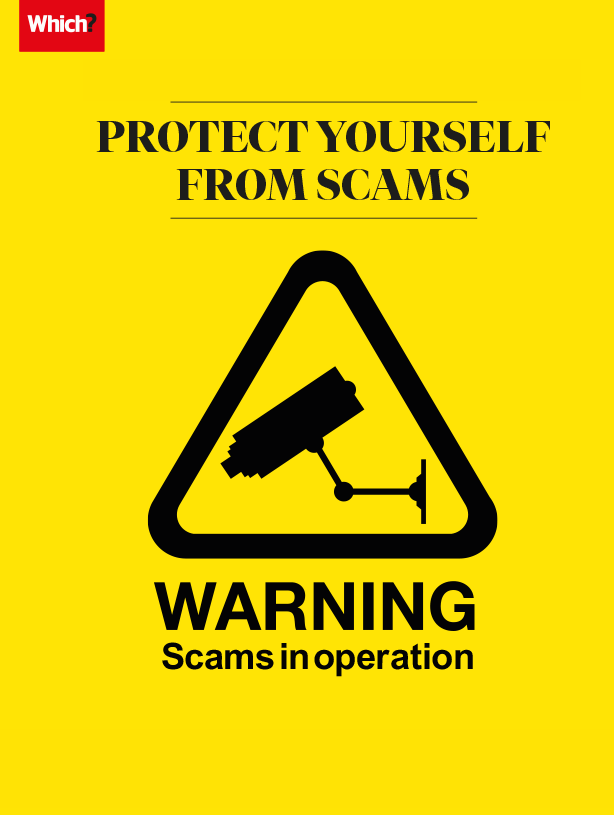 How to get your money back
Your options for getting back money you've lost in a scam depend on how you paid out.

Once you've got over the shock of having fallen victim to a scam and reported it to the relevant organisations and authorities, your thoughts will turn to how you can recover your money. While it's not always possible to do so, the good news is that with many payment methods there is consumer protection in place to make sure you're not left out of pocket. Visit our site to learn more about your online shopping rights.
Credit card payments
You have some protection if you paid by credit card. Section 75 Section 75Holds your credit card provider jointly responsible for problems with credit card purchases between £100 and £30,000. of the Consumer Credit Act states that in most cases, if the goods or services you paid for don't materialise or are not as promised, you can get your money back from your card provider if you can't get it back from the 'seller' – in the case of a scam, the seller will usually disappear.
This protection applies to anything that costs more than £100 up to £30,000, even if you only paid part of the money using a credit card. You can make a claim to your card provider even if you haven't reached deadlock with the seller, which is particularly useful when it comes to a scam.
Debit card payments
Section 75 doesn't apply to debit card payments, so if you sent money to a scammer in this way your only option is chargeback. ChargebackA voluntary scheme to help you get your money back if you paid on debit or credit card. This is where you can ask your card provider to reverse the transaction if the goods or services don't turn up or are not as described.
The scheme is not enshrined in law like Section 75, so there is no guarantee you will get your money back, but it is part of the rules that banks have signed up to. As it can also be used if the goods or services cost under £100, this is also an option for credit card payments where the item cost exactly £100 or less, when Section 75 wouldn't apply.
Bank transfers
Authorised push payment (APP) Authorised push payment (APP)Where the victim is tricked into paying a scammer via bank transfer. fraud resulted in £455.8m being lost in 2019, according to UK Finance. This was 29% more than in 2018, with the number of individual cases increasing by 45%.
Which? has worked with the banking industry and the regulator to put a voluntary code in place (the Contingent Reimbursement Model Code for APP fraud) where banks agree to take responsibility for reimbursing victims. It was launched in May 2019 and most of the major banks have now signed up, including Barclays, Halifax, Lloyds Bank, Nationwide and NatWest. If you don't believe your bank has adequately protected your money, or they're refusing to reimburse you after a scam, then you can complain.
What the code means
Under the code, banks commit to putting a number of measures in place to protect customers, including educating them about APP fraud, identifying particularly vulnerable customers, putting warnings in place if the bank thinks there might be a risk of an APP scam taking place, and acting quickly when one is reported.
If your bank or the bank to which you sent the money has signed up to the code and not met these standards, your bank must reimburse you.
As the victim, to get all your money back you are also expected to have paid attention to the warnings given by your bank, have genuinely believed you were making a payment to a legitimate person or business and taken care in doing so.
Whether your bank is signed up to the code or not, you should make a formal complaint about the scam to it, although it should be easier to get your money back if it is signed up. If you're not happy with your bank's response, you can then take your complaint to the Financial Ombudsman Service. For template letters to help you get your money back, visit our Consumer Rights site.
Reimbursing victims
Until December 2020 there is funding available to reimburse victims in a 'no-blame' scenario – where both the bank and victim have done everything expected of them under the code, as well as where your bank has not signed up to it – but we have been working with the banking industry to get a long-term solution put in place. See 'Bank transfers', above, for more on the work Which? has been doing in this area.
Find out more
For more advice from our Consumer Rights experts on getting your money back and your rights when you've been scammed, visit our site.
PayPal transactions
Online payment system PayPal has protection schemes that can help you to get your money back in the event of a scam, whether you're a buyer or seller.
With Buyer Protection, PayPal may reimburse you if an eligible purchase doesn't turn up or isn't as the seller promised as long as you raise the dispute within 180 days. However, scammers sometimes set up an online payment form that makes it look like you're paying through PayPal when in fact you're just entering your bank details. In this case, you wouldn't be covered.
If a scammer buys an item from you through PayPal then claims the item didn't arrive and tries to get their money back through chargeback, or pays using an unauthorised payment from someone else's account, you could be covered by PayPal Seller Protection.
There are certain conditions you have to meet, though. The item must be shown as 'eligible' or 'partially eligible' by PayPal and you must have sent the item to the shipping address shown on the 'transaction details' page. If the 'buyer' asked you to post the item to a different address or collected it in person you won't be covered – some scammers do this to get round these rules.
You also need to have proof of delivery and the buyer must have paid in one instalment.
Payments through money transfer services
Money transfer services such as MoneyGram or Western Union make it quick and easy to send money to someone, especially if they're abroad, either online or in person, but they don't give you the protection that other methods of payment do, so you're unlikely to get your money back if you paid this way in a scam. These services are best used only for sending money to someone you know.
Unauthorised payments from your bank account or credit card
If your card is lost or stolen and used to make unauthorised transactions after you've reported it missing to your bank, they should refund you the money (this is enshrined in the banking rules). In theory you are still liable for the first £50, but many banks waive this. You should also get your money back if there is a delay in you reporting it missing because you didn't notice it was gone.
If money is taken from your account fraudulently without your card being lost or stolen you should also get a refund, as long as you have kept your details safe. Tell your bank as soon as possible if you notice fraudulent activity.
If your bank won't refund the money that was fraudulently taken from your account, you should make a formal complaint to them. The onus is on the bank to prove that you have acted negligently or fraudulently. If you're not happy with how your bank handles the issue, you can complain to the Financial Ombudsman Service. If the unauthorised payment was from an overdrawn current account or credit card, the bank can only refuse to refund you if they can prove that you or someone acting on your behalf authorised it.
Emotional support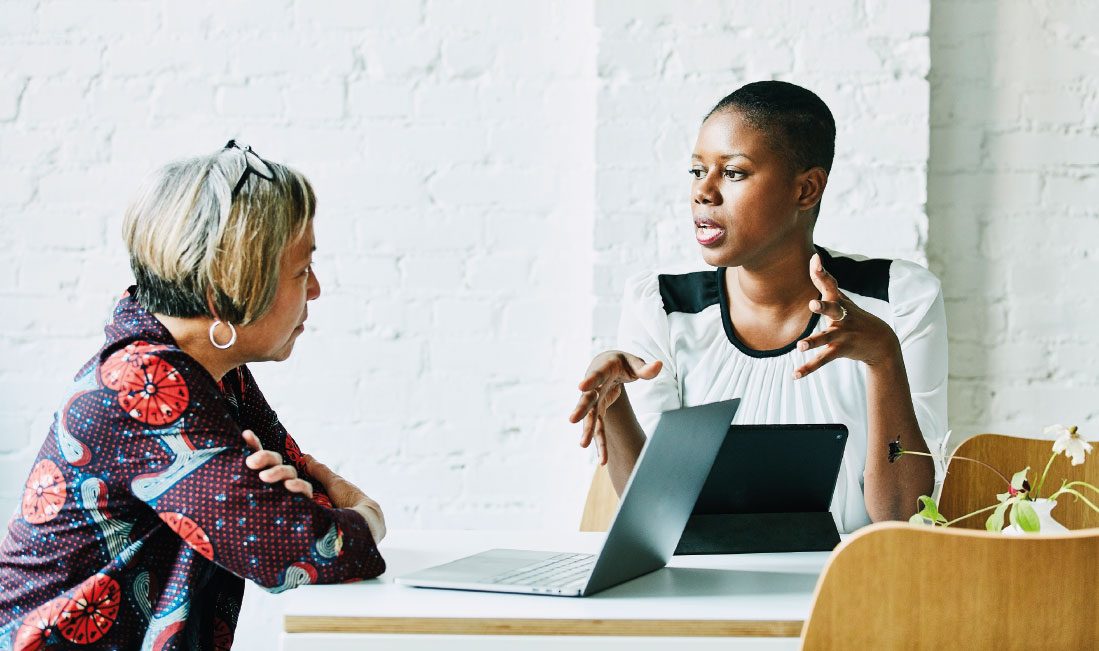 Being a victim of a scam can affect you emotionally, as well as financially, whether it's a one-off scam or an experience of fraud that entangles you for months on end. If you've been the victim of a scam and you're struggling afterwards, it may help to talk to an impartial professional. The mental health charity Mind has a confidential information line you can call on 0300 123 3393. You can also speak to Victim Support, which is an independent charity for victims of crime. Calls are free on 0808 16 89 111 and they are open 24 hours a day every day of the year.