User guide
Finding your way around the guide
To navigate between pages, click or tap the arrows to go forwards to the next page or backwards to the previous one. The arrows can be found either side of the page and at the bottom, too (circled in green, below).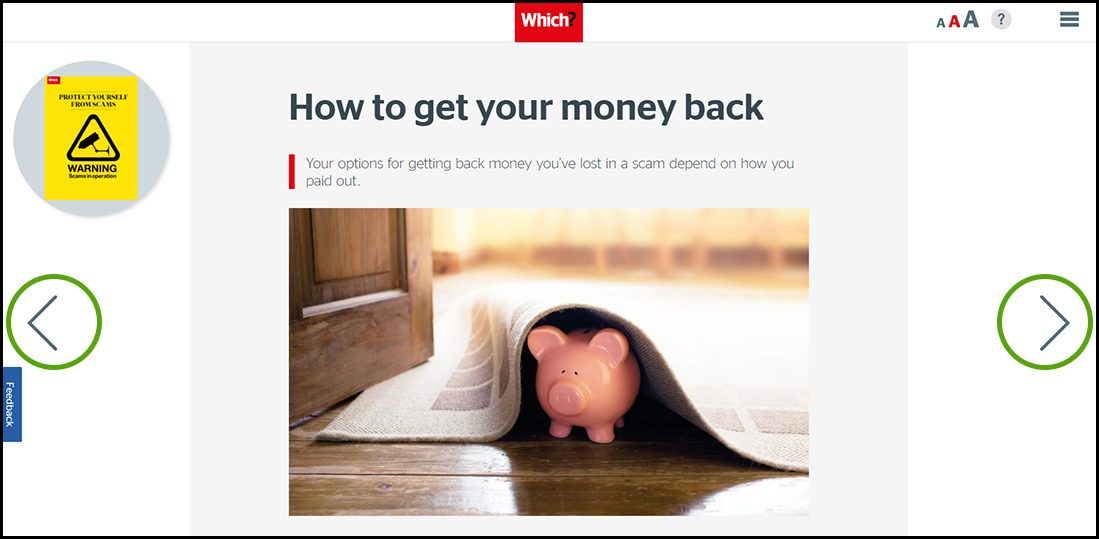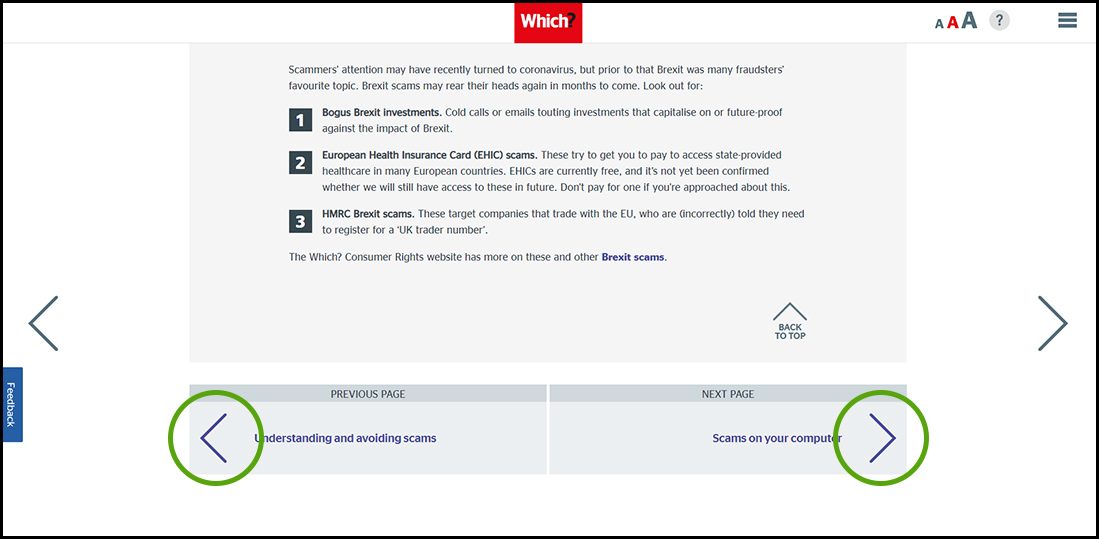 Menu/table of contents
Click or tap on the three horizontal lines in the top-right of your screen to open the main menu/table of contents. This icon is always visible whether you're using a computer, tablet or smartphone. The menu will open on top of the page you're on. Click on any section title to visit that section. Click the cross at any time to close the table of contents.
Text size
On a computer, you'll see three different sized letter 'A's in the top-right of your screen. On a smartphone or tablet these are visible when you open the menu (see above). If you're having trouble reading the guide, click or tap on each of the different 'A's to change the size of the text to suit you.
Pictures
On some images you'll see a blue double-ended arrow icon. Clicking or tapping on this will expand the picture so you can see more detail. Click or tap on the blue cross to close the expanded image.
Where we think a group of images will be most useful to you, we've grouped them together in an image gallery. Simply use the blue left and right arrows to scroll through the carousel of pictures.
Links
If you see a word or phrase that's bold and dark blue, you can click or tap on it to find out more. The relevant website will open in a new tab.
Jargon
If you see a word or phrase underlined, click or tap on the word and small window will pop up with a short explanation. Close this pop-up by clicking or tapping the cross in the corner.
Help
On a computer, you'll see a question mark icon in the top-right of your screen. On a smartphone or tablet this is visible when you open the menu (see above).
Clicking or tapping on the question mark will open this user guide. It opens on top of the page you're on and you can close it any time by clicking or tapping the cross in the top-right corner.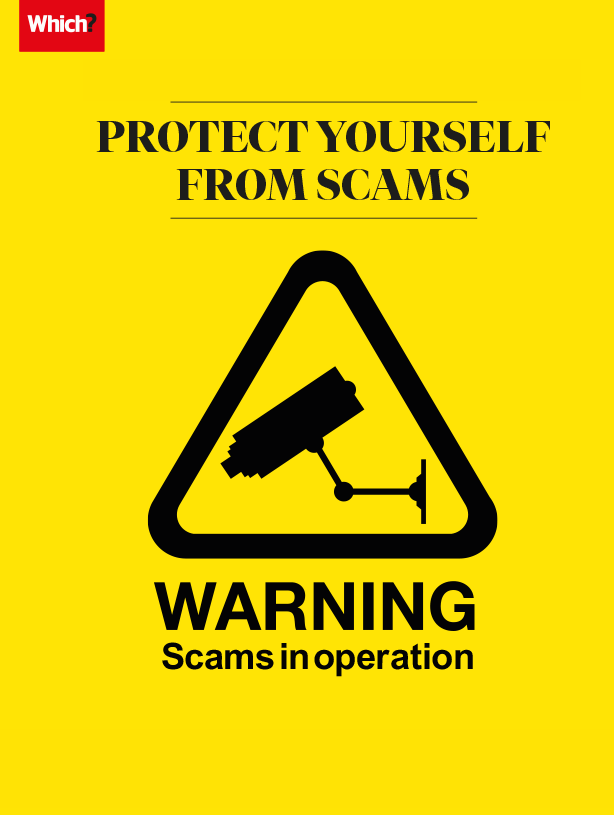 Reporting scams
If you've been a victim of a scam, it's important to report it – but who you notify depends on the type of fraud.
When you've experienced a scam – or spotted one – it's essential to report it, especially to the police so that they can investigate it. It also means it can be included in crime statistics. Scams are seriously under-reported to the police. The Crime Survey for England and Wales produced by the Office for National Statistics (ONS) estimates that there were 3,710,000 incidents of scams in the year to December 2019 (the most recent data available at the time of writing), while only 314,848 (8%) were reported to Action Fraud, which records fraud reported by the public.
Reasons for under-reporting
There are many reasons why scams aren't reported: victims of bank account fraud who received their money back from their bank may not think it's necessary, other victims may not have lost any money or don't have any faith that the police will do anything about it, or perhaps they are even embarrassed about being duped. Scams can happen to anyone, so you should never feel embarrassed about reporting a scam if you have been a victim. It's a brave move that could ultimately help you and protect other people.
How to report scams
Here, we explain the best ways to report the main types of scam. You can also report any type of scam to Action Fraud or contact your local police. You can also contact Citizens Advice, which will pass information on to Trading Standards so they can take legal action against scammers.

Reporting bank and credit account fraud
This type of fraud makes up 70% of the cases captured by the ONS Crime Survey. If you notice fraudulent transactions on your account or any other suspicious activity, or you think you have been the victim of identity theft, Identity theftWhere a criminal uses your name and personal information to take out financial products. contact your bank or credit card company as soon as possible. You should also do this if you have been a victim of an 'authorised push payment' (APP) scam Authorised push payment (APP) fraudWhere the victim is tricked into paying a scammer via bank transfer. (see How to get your money back), as well as reporting it to the bank receiving the money. Let the banks know the account number you sent the money to, as they may be able to put a stop to the transfer. You can use our free template letter to complain to your bank about APP fraud. If you want to ask your bank for repayment of a disputed transaction, use our letter here.
If the bank or credit card company doesn't deal with your complaint satisfactorily, you can complain to the Financial Ombudsman Service Financial Ombudsman ServiceA free-to-consumer dispute resolution service for problems with financial companies. (visit the website).
Has your bank signed up?
In our Stamp Out Scams campaign we are demanding banks refund all innocent victims of APP scams and we're calling for all banks to sign up to the scam refund code of conduct that Which? helped create. Visit the campaign site to find out more and whether your bank has signed up.
Reporting email scams
If you receive what you think is a scam or phishing email, report it to the provider, which can then shut the account down. So, if the message came from a Gmail address, go to the Gmail help centre to report it. If you receive a scam email in your own Gmail account you can report it from within the message by clicking on the three dots on the top-right corner. This will take you to the 'More' menu that includes options to 'Report phishing' and 'Report spam'. You can also report email scams to the government's National Cyber Security Centre at report@phishing.gov.uk.
Reporting social media scams
If you think you've spotted a scam on social media, report it to the platform. (We identify some common ones to look out for on our site.) In Facebook, for example, click on the 'Find Support and Report' link near the content to report it. You can also report to Action Fraud (see above).
Reporting premium-rate phone and postal scams
Scams involving premium-rate phone numbers should be reported to the Phone-paid Services Authority, which is the regulator for goods and services charged to a phone bill. If you receive any post you think is from a scammer, complete the scam mail report on the Royal Mail website and send it to FREEPOST SCAM MAIL along with the item, including the original envelope.
Reporting clone scams
Whether you've been contacted by someone pretending to be from a reputable company, or have received an email or visited a website made to look like it's from a reputable company, such as a bank, report it to the firm being cloned.
Reporting to Which?
If you think you've spotted a scam, you can alert others on our community site, Which? Conversation – and be sure to check out previous posts warning of potential scams. You can also report scams to Which? Scam Watch by emailing scamwatch@which.co.uk.