User guide
Finding your way around the guide
To navigate between pages, click or tap the arrows to go forwards to the next page or backwards to the previous one. The arrows can be found either side of the page and at the bottom, too (circled in green, below).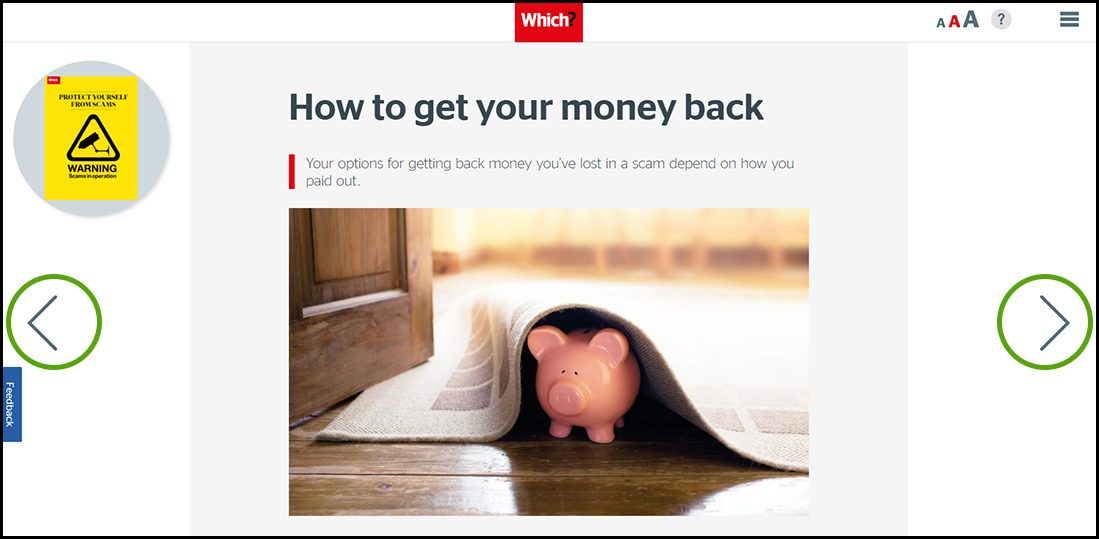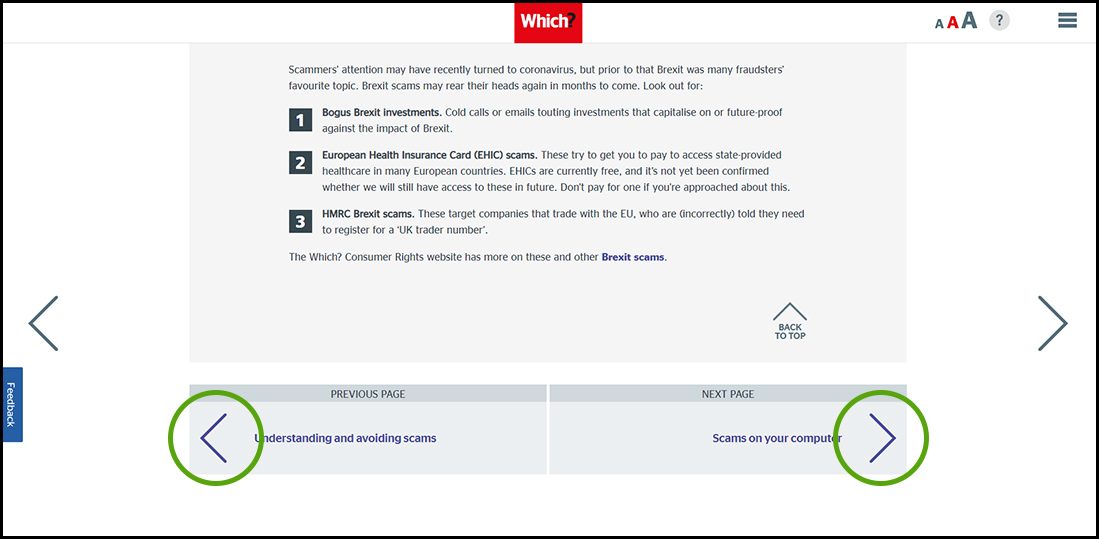 Menu/table of contents
Click or tap on the three horizontal lines in the top-right of your screen to open the main menu/table of contents. This icon is always visible whether you're using a computer, tablet or smartphone. The menu will open on top of the page you're on. Click on any section title to visit that section. Click the cross at any time to close the table of contents.
Text size
On a computer, you'll see three different sized letter 'A's in the top-right of your screen. On a smartphone or tablet these are visible when you open the menu (see above). If you're having trouble reading the guide, click or tap on each of the different 'A's to change the size of the text to suit you.
Pictures
On some images you'll see a blue double-ended arrow icon. Clicking or tapping on this will expand the picture so you can see more detail. Click or tap on the blue cross to close the expanded image.
Where we think a group of images will be most useful to you, we've grouped them together in an image gallery. Simply use the blue left and right arrows to scroll through the carousel of pictures.
Links
If you see a word or phrase that's bold and dark blue, you can click or tap on it to find out more. The relevant website will open in a new tab.
Jargon
If you see a word or phrase underlined, click or tap on the word and small window will pop up with a short explanation. Close this pop-up by clicking or tapping the cross in the corner.
Help
On a computer, you'll see a question mark icon in the top-right of your screen. On a smartphone or tablet this is visible when you open the menu (see above).
Clicking or tapping on the question mark will open this user guide. It opens on top of the page you're on and you can close it any time by clicking or tapping the cross in the top-right corner.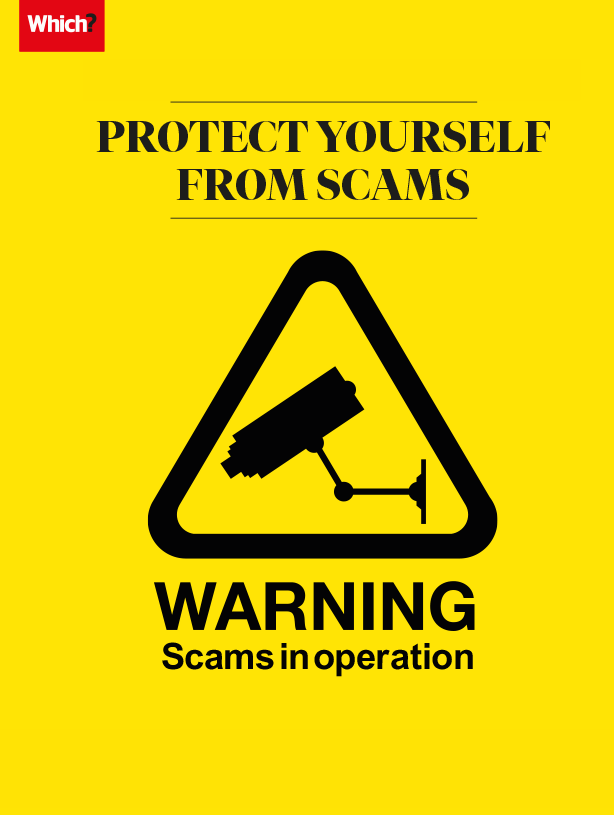 Online marketplace scams
Online trading sites can be rife with fake listings designed to con you into buying second-rate goods – or even non-existent ones.

When shopping online, always follow our top tips to stay safe. While most traders operating on well-established and regulated sites like eBay and trading platforms such as Facebook Marketplace are genuine, online marketplaces also offer criminals the chance to tout fake and dangerous products.
Get the best price when shopping online
There are great deals to be found in today's online marketplaces – but if you're after the best price on something, make sure you consider all your options. Visit our site to read our experts' top 10 tips for scoring the best deals.
Watch out for these telltale signs of a fake listing scam:
If prices are significantly below what similar items are selling for elsewhere, be suspicious.
Where's the product coming from? Apple doesn't allow direct iPhone sales from China into the UK, for example.
Are there contact details such as a UK phone number? If not, think carefully.
Look out for unusual payment options. Scam sellers on eBay often insist on a money transfer using Western Union or similar, outside eBay's own PayPal payments system. Be sceptical if a seller insists on payment in a foreign currency; reputable firms will offer sterling sales in the UK.
Criminal traders often prefer to work outside the eBay system, exchanging emails directly for example. According to eBay, only contacts made through the internal 'My Messages' system are genuine, so check that an email that arrives in your inbox is also in your eBay messages folder.
Don't part with your money if you're in any doubt. You could also try asking the seller for specific photos of the item they're selling, which may help to confirm they have the goods. Google the seller's username, too, as others may have posted warnings if they've been scammed.
If you think you might have been sold a counterfeit product, report this to your local trading standards office and to the site on which it was sold. Visit our site for more on your online shopping rights.
Copycat websites
Some scammers copycat legitimate retailers, creating convincing ads and professional-looking websites to back them up. These might have domain names that reference a well-known brand, but aren't the official sites – discountnikeclothes, for example. The fraudster may also have skimped on some of the website's pages – the 'About us' page may be light on detail, and the 'Contact Us' page may have questionable contact details, or these may even be missing entirely.
Read our advice on how to spot a fake website, or check out this post on our community site Which? Conversation, for just a few examples of the myriad fake websites we've come across.