User guide
Finding your way around the guide
To navigate between pages, click or tap the arrows to go forwards to the next page or backwards to the previous one. The arrows can be found either side of the page and at the bottom, too (circled in green, below).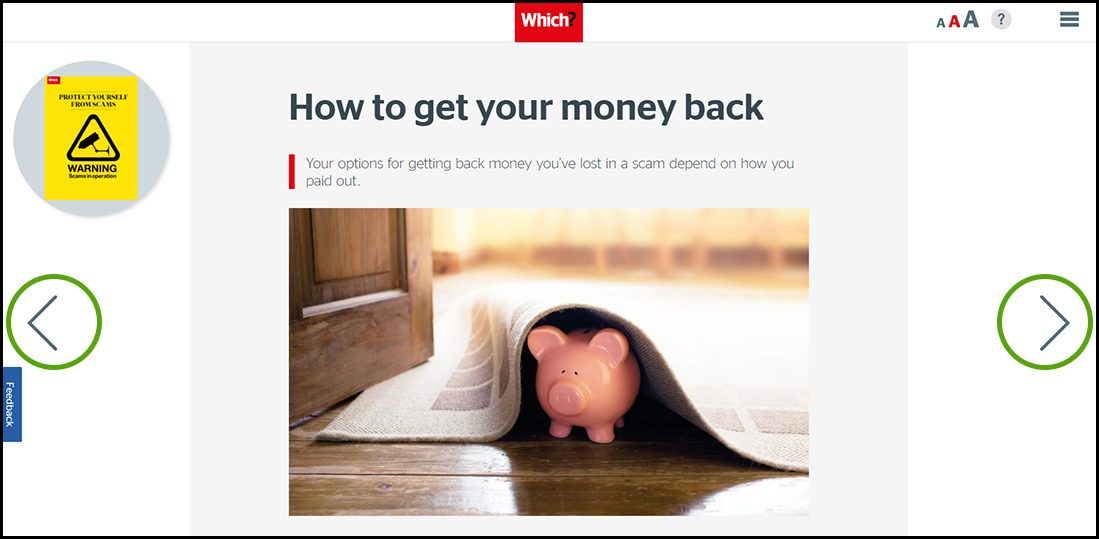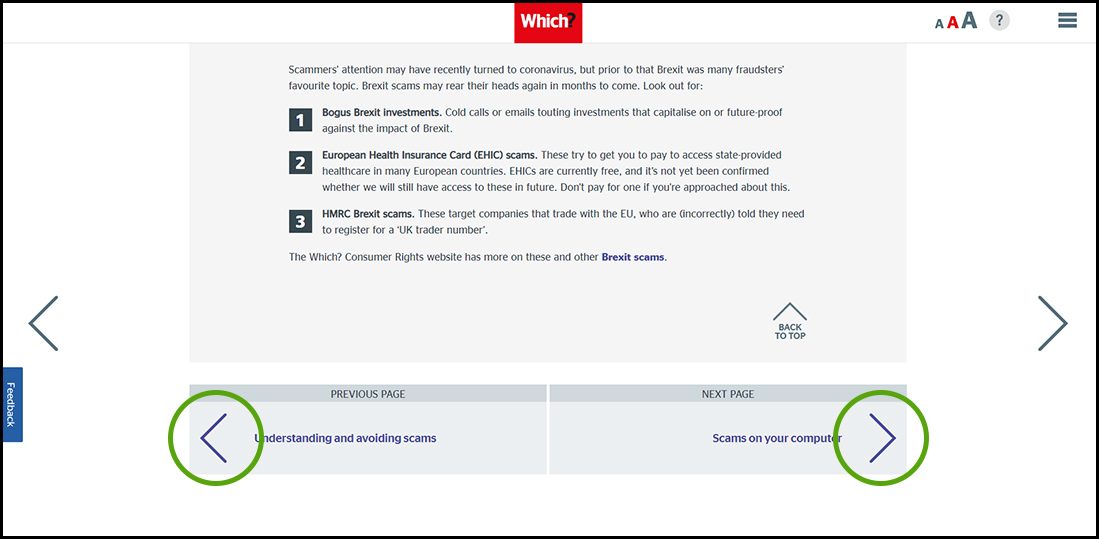 Menu/table of contents
Click or tap on the three horizontal lines in the top-right of your screen to open the main menu/table of contents. This icon is always visible whether you're using a computer, tablet or smartphone. The menu will open on top of the page you're on. Click on any section title to visit that section. Click the cross at any time to close the table of contents.
Text size
On a computer, you'll see three different sized letter 'A's in the top-right of your screen. On a smartphone or tablet these are visible when you open the menu (see above). If you're having trouble reading the guide, click or tap on each of the different 'A's to change the size of the text to suit you.
Pictures
On some images you'll see a blue double-ended arrow icon. Clicking or tapping on this will expand the picture so you can see more detail. Click or tap on the blue cross to close the expanded image.
Where we think a group of images will be most useful to you, we've grouped them together in an image gallery. Simply use the blue left and right arrows to scroll through the carousel of pictures.
Links
If you see a word or phrase that's bold and dark blue, you can click or tap on it to find out more. The relevant website will open in a new tab.
Jargon
If you see a word or phrase underlined, click or tap on the word and small window will pop up with a short explanation. Close this pop-up by clicking or tapping the cross in the corner.
Help
On a computer, you'll see a question mark icon in the top-right of your screen. On a smartphone or tablet this is visible when you open the menu (see above).
Clicking or tapping on the question mark will open this user guide. It opens on top of the page you're on and you can close it any time by clicking or tapping the cross in the top-right corner.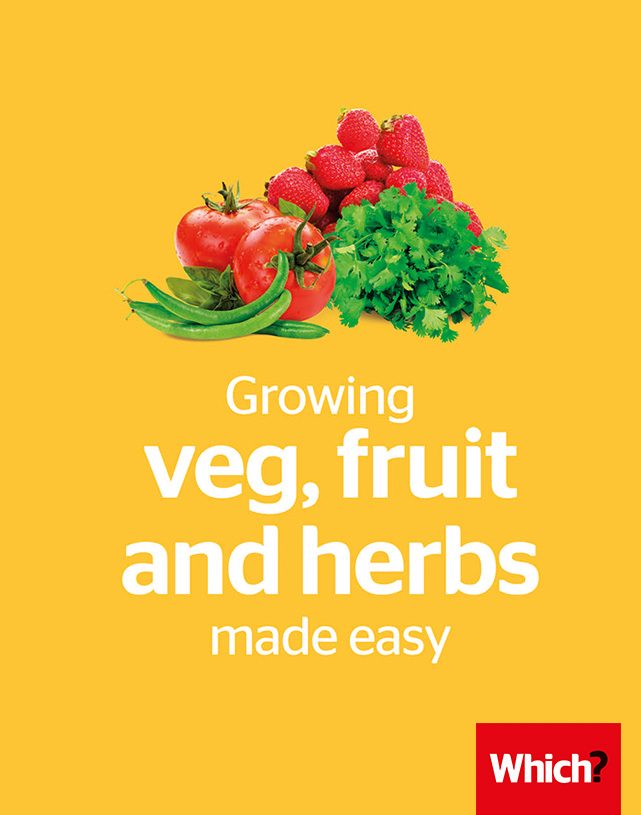 Start a vegetable patch: peas, beans, courgettes, potatoes and pumpkins
It doesn't take many seeds to produce bumper crops.
Peas and beans
Fresh peas and beans are a real treat, especially mangetout (with flat pods) and broad beans eaten whole in the pod (just as you would do with mangetout). Runner beans are the quintessential British garden crop and are regarded as a novelty by the rest of the world. Pea and bean seeds are big, so they're easy to sow.
Varieties
Peas: we recommend 'Ambassador' for shelling peas, 'Carouby de Maussane' and 'Oregon Sugar Pod' for mangetout, and 'Delikett' for sugar snap peas.
Broad beans: we recommend 'De Monica' and 'Karmazyn'. If you want to try eating the whole pod, go for 'Listra' or 'Optica'.
Runner and French beans: we recommend 'Firestorm', 'White Lady' and 'Moonlight' for runner beans. 'Cobra' and 'Fasold' are good for climbing French beans. As a Which? member, you can log in to see all our Best Buy runner bean varieties.
How we test peas and beans
To determine which varieties are Best Buys, Which? grows and tastes all the peas and beans on test. In our latest trials we ranked 20 kinds of garden peas, 21 types of French beans, 16 varieties of broad beans and 18 sorts of runner beans. Factors that determine a Best Buy include: ease of picking, yields, size and taste. To taste-test peas, our experts use a Brix meter – the same sugar-testing device winemakers use to measure sweetness.
How to grow
Peas: sow outdoors from February (under a cloche or mesh) to May and again in July for an autumn crop. Make a 2cm-deep trough about 10cm wide, and scatter the seeds roughly 5cm apart. Cover with soil and keep moist. If supports are needed, put twigs or plastic pea netting strung between posts in place before seedlings appear.
Broad beans: start the seeds off in pots or modules in October or November (for an earlier crop) or February, and transplant them into the ground after three weeks. Use posts and string to keep them upright.
Runner and French beans: put 2.4m-tall garden canes in place before sowing – make a teepee with a base of about 60cm in diameter. Sow seeds in May or June, 15cm apart, giving each plant a cane to climb up. Read our secrets of how to grow runner beans.
Tip
Broad beans are a magnet for blackfly, which can stunt growth if present in large numbers and can also spread viruses. Try pinching out any growing tips that have blackfly colonies to prevent them spreading. Alternatively, squash the blackfly by hand (wear gloves for this!).
For more information on dealing with blackfly, visit the Gardening Helpdesk.
Courgettes
Courgettes are easy to grow. They're a prolific crop – each plant should produce up to 30 fruits from late June to early September. Just two plants will produce plenty of delicious courgettes all summer long.
They need plenty of room, but we've also had success growing them in 20L pots. If you don't pick courgettes frequently in summer, they'll turn into marrows in the blink of an eye.
We recommend 'Defender', 'Tuscany' and 'Atena' (a yellow variety).
How to grow
Sow seeds in 8cm pots indoors at the end of April. Plant outside at the end of May/early June.
Acclimatise seedlings to the outdoors before planting (bring them indoors overnight at first). Find out more about hardening off plants.
Dig a hole 30cm deep and wide, and mix in a generous amount of garden compost as you refill it. Give each plant an area of at least 75cm in diameter.
Keep the soil around plants moist, especially in hot weather.
Pick your courgettes when they reach 15cm long.
Potatoes
Potatoes are really easy to grow: simply plant one tuber and, a couple of months later, you'll be digging up lots of them.
Blight disease can strike in warm, damp summers. If it's a problem in your area, grow 'first early' varieties, which should be out of the ground by the time it strikes, or grow resistant varieties such as 'Sarpo Mira'.
There are three types of potato, so why not grow a crop of each?
First earlies start to produce tubers in June, just when 'Jersey Royals' command a premium in the shops.
Tip
To store maincrop potatoes, dig them up in October. Cut the foliage off a fortnight before harvesting. Early varieties are best eaten fresh, as they won't store for long.
Second earlies follow on for harvesting as you need them throughout July and August. They include the waxy salad varieties that are good boiled and served hot or cold.
Maincrops are usually left until early autumn and dug up in one go to store through the winter.
Varieties
First earlies: 'Casablanca' and 'Lady Christl' are both reliable and tasty.
Second earlies: as a waxy salad potato, 'Charlotte' still takes some beating. Also try 'Anya', a cross between 'Desiree' and 'Pink Fir Apple'.
Maincrops: for taste and the best roast potatoes, try 'Cara', 'Apache' or 'Desiree'.
Find out which Best Buy roast potatoes turned out firm and which turned out fluffy.
How to grow
Potatoes are grown from 'seed potatoes', which are tubers produced under disease-free conditions. They are in garden centres from January.

'Chit'

Chit

Putting seed potatoes in a light, cool place to allow them to make small, sturdy shoots while you're waiting to plant them outdoors.

the tubers in a cool, light place before planting.
Plant early varieties in early April and maincrops in late April. Plant the seed tubers 40cm apart and 15cm deep, using a trowel, in rows that are 50cm apart (for earlies) and 75cm apart (for maincrops).

Earthing up

Earthing up

Covering potato leaves and shoots with soil to increase the number of potato tubers, protect them from frost and avoid the tubers turning green with exposure to light.

helps to protect young shoots and increase the yield. Do this weekly until you have a rounded ridge about 30cm high and wide.
Pumpkins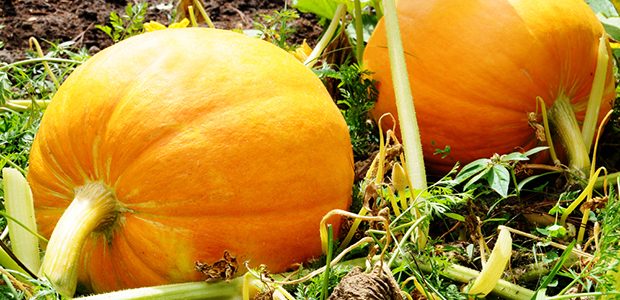 If you have kids who love Halloween, a pumpkin is essential. They grow fast and trail along the ground, so you'll need to give them plenty of room – at least 1.5m each.
'Mars' is a baby pumpkin that produces bright-orange fruits suitable for carving. 'Racer' is another bright-orange variety with a seed cavity deep enough for a large candle.
How to grow
In April, sow the seeds indoors in pots, as for courgettes (see above). The seeds are large and the seedlings huge.
Plant them out once there's no risk of frost. Protect the young plants from cold nights and wind using fleece until well established.
Space plants 1m apart each way, marked with a cane. They can spread in all directions.
You shouldn't need to water them except in very dry summers, when a couple of good soakings around the original planting position should increase the number and size of the fruits.
Leave fruits to ripen fully in the sun. Before the autumn frosts, lift them, taking care not to damage the stalk. Stand the fruits during the day in a sunny, sheltered spot or in the greenhouse to finish ripening the skins. Then store in a cool, dry place.

Grow your own

If you're new to growing your own, you might want to start with some of the easiest vegetables to grow. Find suggestions and growing tips on the Which? website.