User guide
Finding your way around the guide
To navigate between pages, click or tap the arrows to go forwards to the next page or backwards to the previous one. The arrows can be found either side of the page and at the bottom, too (circled in green, below).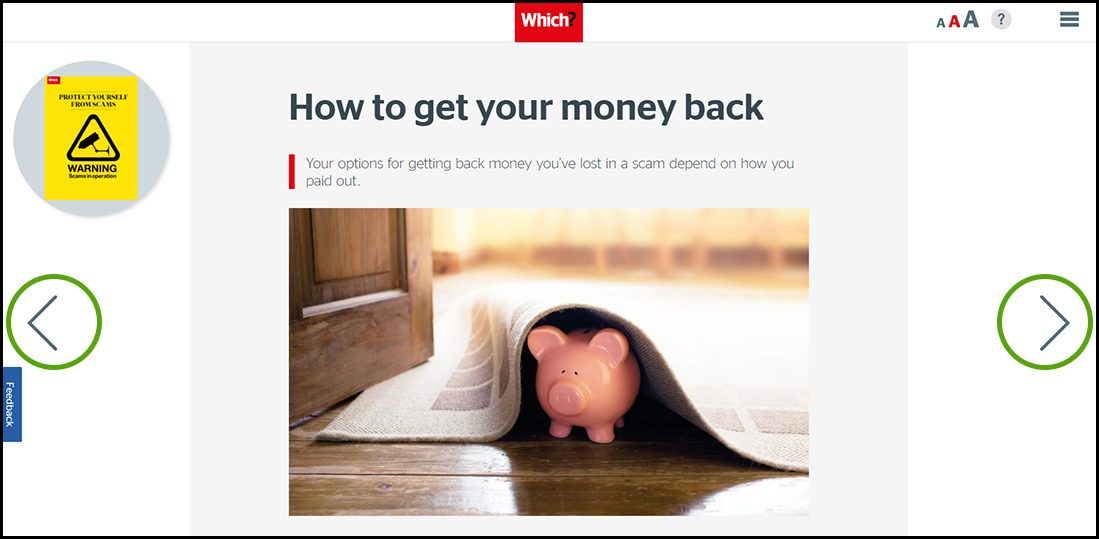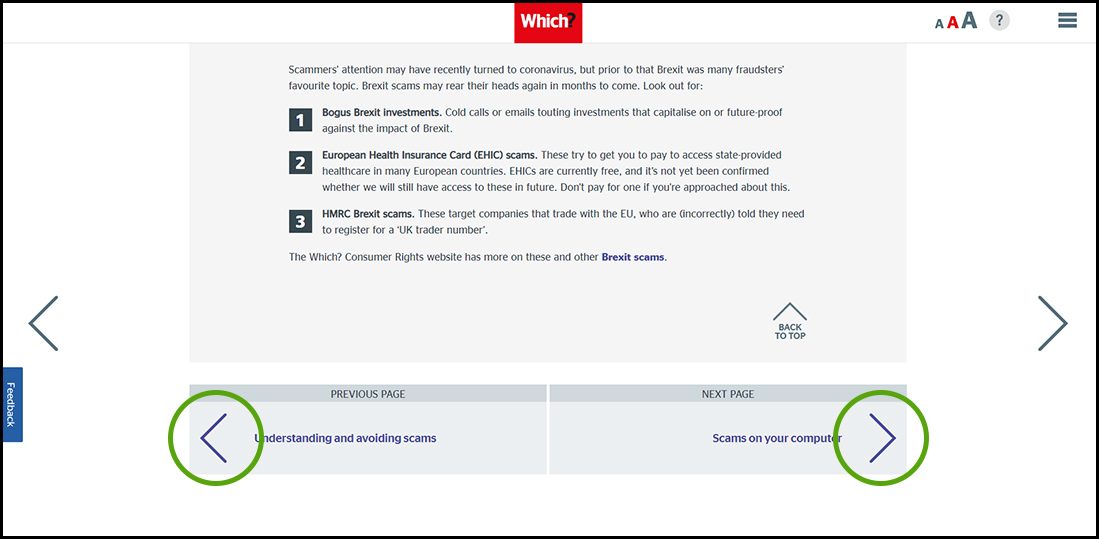 Menu/table of contents
Click or tap on the three horizontal lines in the top-right of your screen to open the main menu/table of contents. This icon is always visible whether you're using a computer, tablet or smartphone. The menu will open on top of the page you're on. Click on any section title to visit that section. Click the cross at any time to close the table of contents.
Text size
On a computer, you'll see three different sized letter 'A's in the top-right of your screen. On a smartphone or tablet these are visible when you open the menu (see above). If you're having trouble reading the guide, click or tap on each of the different 'A's to change the size of the text to suit you.
Pictures
On some images you'll see a blue double-ended arrow icon. Clicking or tapping on this will expand the picture so you can see more detail. Click or tap on the blue cross to close the expanded image.
Where we think a group of images will be most useful to you, we've grouped them together in an image gallery. Simply use the blue left and right arrows to scroll through the carousel of pictures.
Links
If you see a word or phrase that's bold and dark blue, you can click or tap on it to find out more. The relevant website will open in a new tab.
Jargon
If you see a word or phrase underlined, click or tap on the word and small window will pop up with a short explanation. Close this pop-up by clicking or tapping the cross in the corner.
Help
On a computer, you'll see a question mark icon in the top-right of your screen. On a smartphone or tablet this is visible when you open the menu (see above).
Clicking or tapping on the question mark will open this user guide. It opens on top of the page you're on and you can close it any time by clicking or tapping the cross in the top-right corner.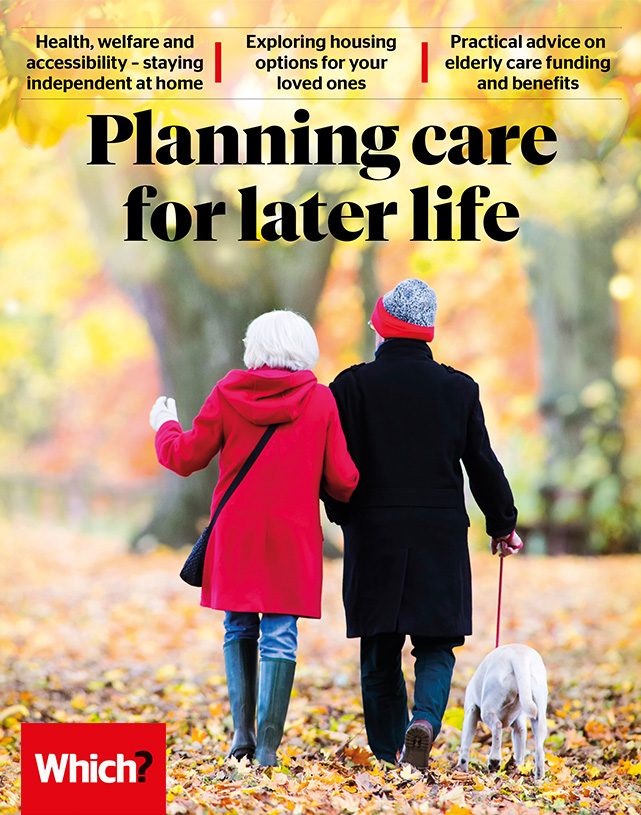 Adapting the home
Nobody wants to leave a much-loved home before they're ready but, with a wide range of clever alterations to consider, it's possible to stay comfortable at home for much longer.
Avoiding a fall
Falls are the single biggest cause of visits to A&E departments for older people, according to Age UK. Falls can trigger serious complications, like a lengthy hospital stay for a broken hip, or permanently reduced mobility that affects quality of life, for example. It's worth doing as much as possible to lessen the risks.
Some falls happen for reasons that may be avoidable: trip hazards, like loose carpets or rugs; or poor lighting on a staircase. However, many occur during 'transfers' (a term that healthcare professionals use for moving a person from one position to another). For example, they can occur when a person is going from:
sitting to standing, such as getting out of a chair or bed
standing to sitting, such as lowering down into a chair
sitting to another sitting position, such as moving from a wheelchair to the toilet, or vice versa.
Many activities can be made safer by using the right equipment. Occupational therapists and other healthcare professionals can advise on the right solutions. Your relative may also benefit from exercises to help improve their mobility, strength or balance. A physiotherapist can provide appropriate advice.
Rails for support
If your relative is having difficulty moving around their home because of poor balance or decreased mobility, consider installing grab rails. These provide extra confidence when negotiating steps or stairs, or when getting in and out of the bath.
There's a wide range of rails on the market in different shapes, sizes and materials:
Wooden rails work well for stairs. They can be cut to size and painted.
Metal rails often work well at the front door or at the bottom of the stairs.
Plastic grab rails are the safest option for the bathroom, especially if you choose one with a textured grip to prevent hands from slipping.
The bathroom is the most obvious place for support rails, as people are moving in and out of the bath or shower, when it can be wet and slippery. Grab rails can also help to provide stability next to the toilet, when adjusting clothing or getting on and off the seat. A rail next to the hand basin will also provide extra support for someone with poor balance when standing.
Take care on the stairs
If your relative needs additional support on the stairs and has only one banister, a second one that runs the full length of the stairs, including around any corners, can help to provide continuous support.
The rail should also extend beyond the bottom and top of the stairs to provide a handhold from the level surface. If the wall ends suddenly, or if there's a door at either end of the stairs, you could look to install a short vertical rail, so your relative can move their hand from the stair rail to a short rail on the landing to help them get their balance.
Visit Which? Later Life Care to read more about preventing falls.
Do it yourself
If you need to arrange more extensive renovations, such as installing a new kitchen or bathroom, check out our advice and reviews.
Stairlifts made easy
Stairlifts are mechanical devices used for lifting people (and sometimes wheelchairs) up and down staircases. In a home with more than one floor, they can make the whole property accessible, so no one is stuck at ground level.
Motorised domestic stairlifts are relatively straightforward, although it can be more complicated if you have a curved or unusually shaped staircase. Stairlift tracks normally (though not always) fit to the treads of the stairs, not to the wall next to the staircase.
Most stairlifts are plugged into the mains supply and this automatically recharges the batteries, which will continue to function in a power cut.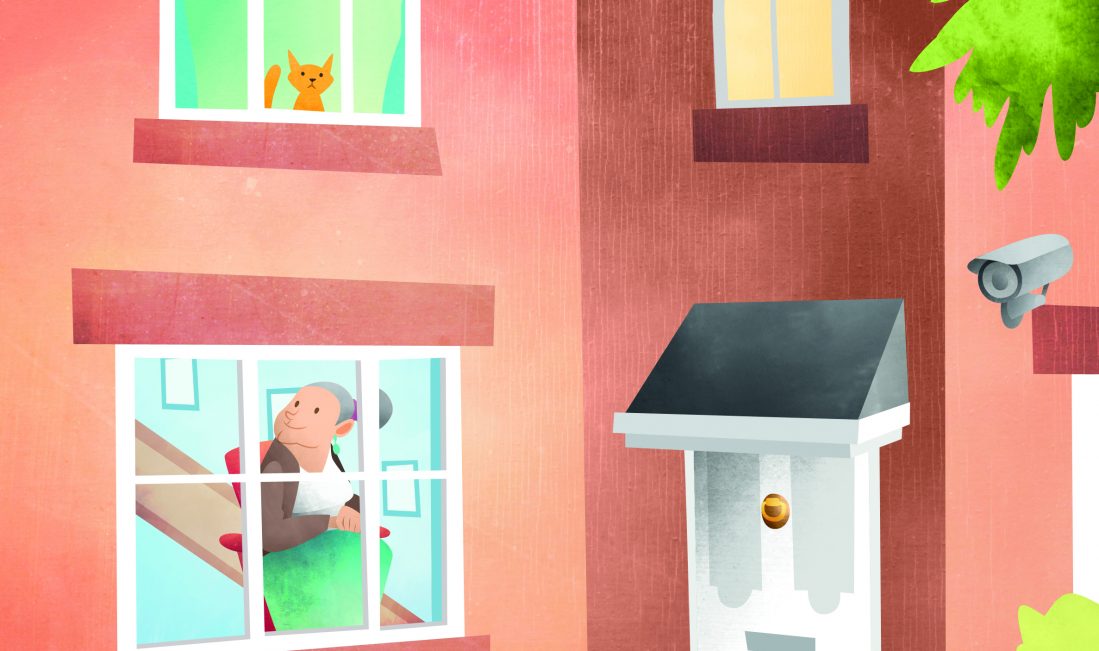 Stairlifts: the ups and downs
A stairlift is good for those who struggle with stairs – maybe because of a medical condition, pain or a hip replacement – and want to keep using the whole house. You'll need to make sure that the person using the stairlift can get on and off safely, and can use the controls. You'll also need to take into account any weight restrictions, and whether one would suit the stairs.
Ask the professionals
An occupational therapist (OT) can assess whether a stairlift would be suitable for your relative, and advise on when is the right time to get one. Make an appointment with an OT through your relative's local social services department, or privately through the Royal College of Occupational Therapists.
Talk to your OT or an expert from a equipment demonstration centre or disabled living centre to find a good stairlift supplier. In addition, Which? has surveyed stairlift owners to find out how some of the major brands – such as Acorn, Handicare (sold by Age UK) and Stannah – compare in terms of reliability, usability, comfort and value for money. Find out the results in our stairlift advice guides.
How much does a stairlift cost?
A simple, straight stairlift costs as little as £2,000. Prices can, however, jump to £6,000 if you have curved or especially long stairs, or need additional features. In our 2018 survey of stairlift owners, the average price paid was £3,369 for a new stairlift.
However, many manufacturers and suppliers charge much less for reconditioned stairlifts. These are usually straight models that have been removed and can be installed in a different home. If choosing a reconditioned model, make sure it comes from an authorised dealer and is covered by a warranty.
You'll find lots more about stairlift prices and how the major brands compare on the Which? website.
Which? Trusted Traders
Finding a trustworthy trader takes some of the stress out of home repairs and improvements. Which? Trusted Traders assesses and endorses reputable local tradespeople in your area.
Safe and secure
Few things are more important than feeling safe in your own home. Older people can feel especially vulnerable, but there are plenty of ways to help improve the overall safety and security of their home.
If someone has concerns about answering the front door, an outdoor key safe can enable trusted carers to come and go. Another option is an intercom system, using a phone, camera, or both.
Doorbells with an extra-loud ring or flashing lights can be helpful for those with hearing problems. Outside lighting that comes on automatically at dusk or when someone enters the driveway or approaches the front door lends a sense of security.
There are also products that can help with locking and unlocking doors if your relative is beginning to lose strength or dexterity in their fingers. Read our advice on home security for more ideas.
Paying for adaptations
Some home adaptations require a sizeable investment, but it may be possible to get help with the costs.
A Disabled Facilities Grant is available UK-wide to people meeting certain eligibility criteria.
Some local authorities, mainly in Northern Ireland, have discretionary powers to help with urgent home alterations, improvements and repairs.
Home Improvement Agencies (also known as 'Staying Put' or 'Care and Repair' schemes) are local agencies providing specialist support and advice.
Your relative may need to use their income and savings, a personal loan, benefits such as the attendance allowance, grants from charities, or equity release.
The Which? website offers more detailed information on all of these options.