User guide
Finding your way around the guide
To navigate between pages, click or tap the arrows to go forwards to the next page or backwards to the previous one. The arrows can be found either side of the page and at the bottom, too (circled in green, below).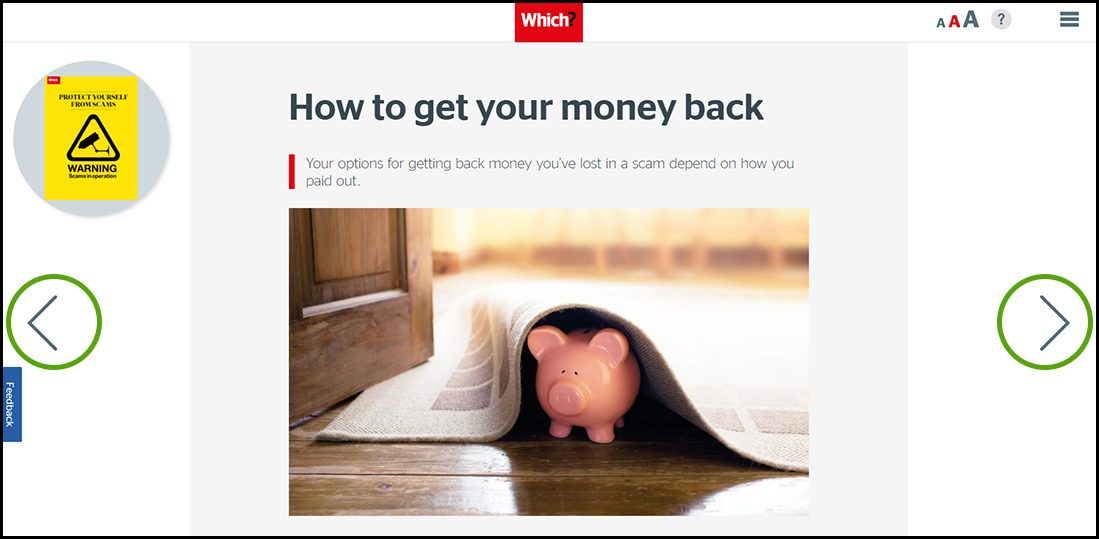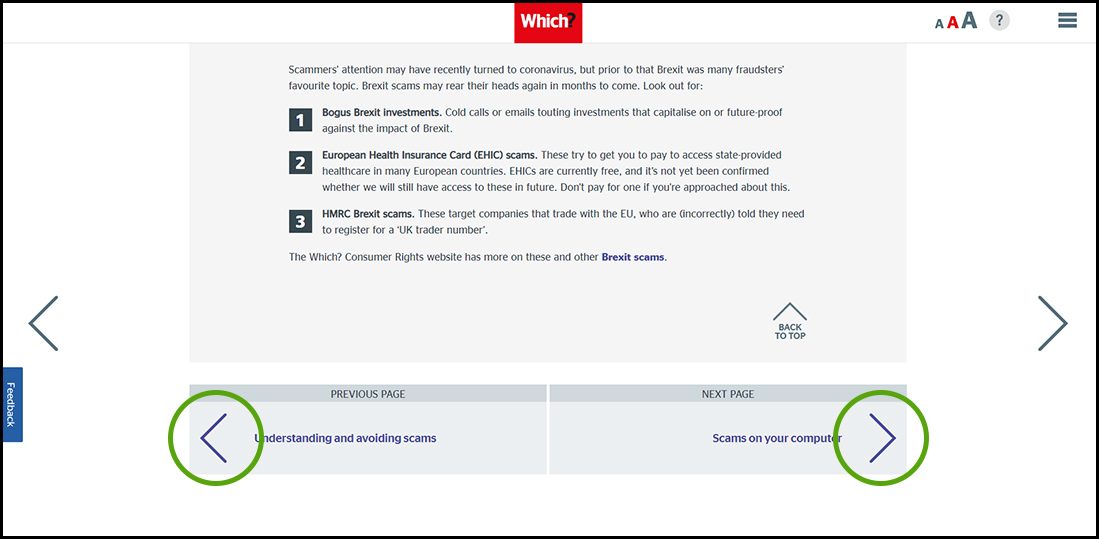 Menu/table of contents
Click or tap on the three horizontal lines in the top-right of your screen to open the main menu/table of contents. This icon is always visible whether you're using a computer, tablet or smartphone. The menu will open on top of the page you're on. Click on any section title to visit that section. Click the cross at any time to close the table of contents.
Text size
On a computer, you'll see three different sized letter 'A's in the top-right of your screen. On a smartphone or tablet these are visible when you open the menu (see above). If you're having trouble reading the guide, click or tap on each of the different 'A's to change the size of the text to suit you.
Pictures
On some images you'll see a blue double-ended arrow icon. Clicking or tapping on this will expand the picture so you can see more detail. Click or tap on the blue cross to close the expanded image.
Where we think a group of images will be most useful to you, we've grouped them together in an image gallery. Simply use the blue left and right arrows to scroll through the carousel of pictures.
Links
If you see a word or phrase that's bold and dark blue, you can click or tap on it to find out more. The relevant website will open in a new tab.
Jargon
If you see a word or phrase underlined, click or tap on the word and small window will pop up with a short explanation. Close this pop-up by clicking or tapping the cross in the corner.
Help
On a computer, you'll see a question mark icon in the top-right of your screen. On a smartphone or tablet this is visible when you open the menu (see above).
Clicking or tapping on the question mark will open this user guide. It opens on top of the page you're on and you can close it any time by clicking or tapping the cross in the top-right corner.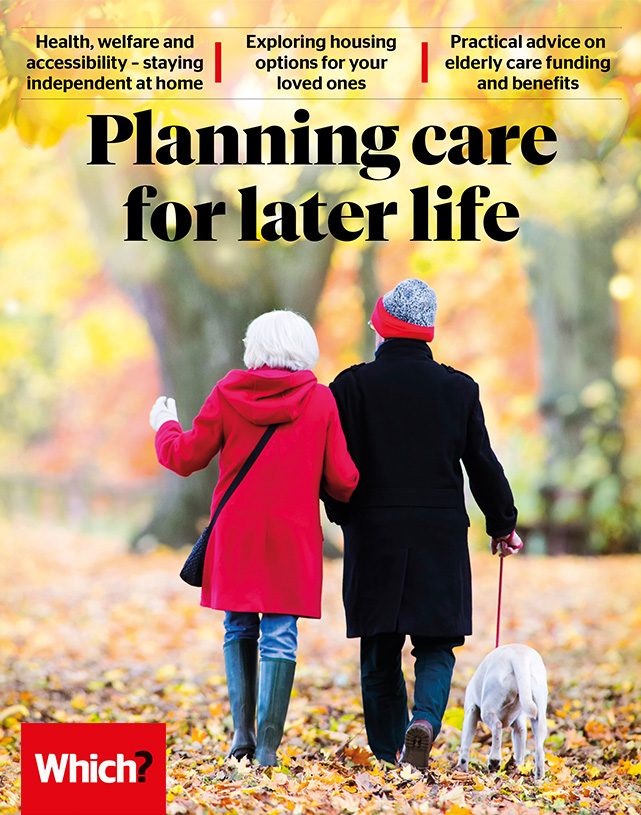 Getting out and about
Even as we age, there's plenty we can do to stay active and sociable, and avoid feeling frustrated or isolated. There are lots of ways for an older person to get out and about.
Common mobility issues
As we grow older, we gradually lose some of our strength and flexibility. When combined with aches and pains, fatigue or potential other medical conditions, older people often have reduced mobility. They may have difficulty with steps, stairs and inclines, uneven ground or loose surfaces, or walking long distances.
If so, they might benefit from the support of a mobility aid, like a walking stick, walking frame, wheelchair or even a mobility scooter. Read all our tips on what to buy – and how to make the most of these options.
Mobility scooters
Mobility scooters are a great option for taking the effort out of walking, but it's important to get the right one. For example, do you need to look for one with a tiller and controls that can be operated even with arthritic fingers? These are the main types to consider:
Class 2 scooters are for use on pavements and in shopping areas. They are smaller, lighter and often cheaper than those designed for the road.
Folding boot scooters are also for pavements only and can be folded or taken apart to fit into a car boot – good for days out with the family.
Class 3 scooters can go on any road with a speed limit up to 50mph (although you may be relieved to learn that their maximum speed is 8mph). They are more powerful and tend to be more comfortable, but are heavier.
There are various factors to consider when choosing a scooter. You'll need a model that's right for the types of journeys it will make. Other factors to consider include: body weight and size, storage space and budget. As a Which? member, you can read all our scooter reviews and guidance on picking the right one for you.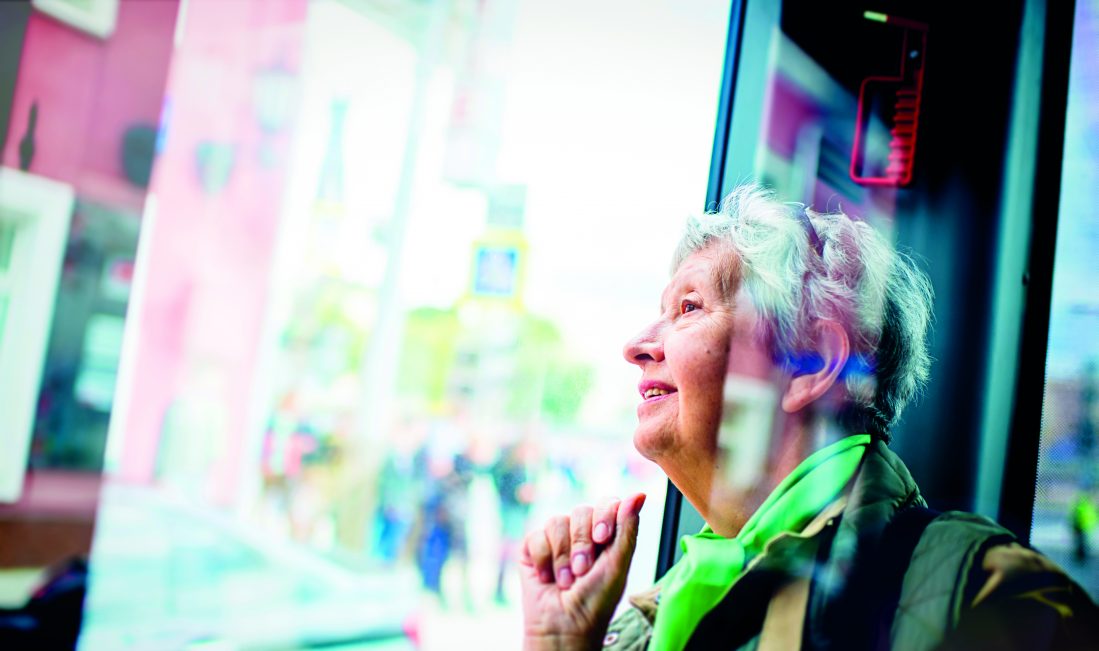 Getting around
There are a wide range of transport options for older people. Many are free or subsidised.
Community or group transport: usually minibuses that take community groups to specific destinations (such as a social club or lunch club).
Dial-a-Ride: minibuses or accessible cars operated for eligible individuals in their local community.
Motability: a not-for-profit scheme that allows people in receipt of specified disability benefits to hire a powered wheelchair or mobility scooter.
Shopmobility: a wheelchair or scooter loan service that helps people with mobility problems get access to shopping and leisure activities.
Driving Mobility Centres: a network of centres around the country providing support and advice on driving and mobility-related concerns.
Get your badge
The Blue Badge scheme provides a national range of parking concessions for people with severe mobility problems who have difficulty using public transport. You can both check eligibility and apply online.