User guide
Finding your way around the guide
To navigate between pages, click or tap the arrows to go forwards to the next page or backwards to the previous one. The arrows can be found either side of the page and at the bottom, too (circled in green, below).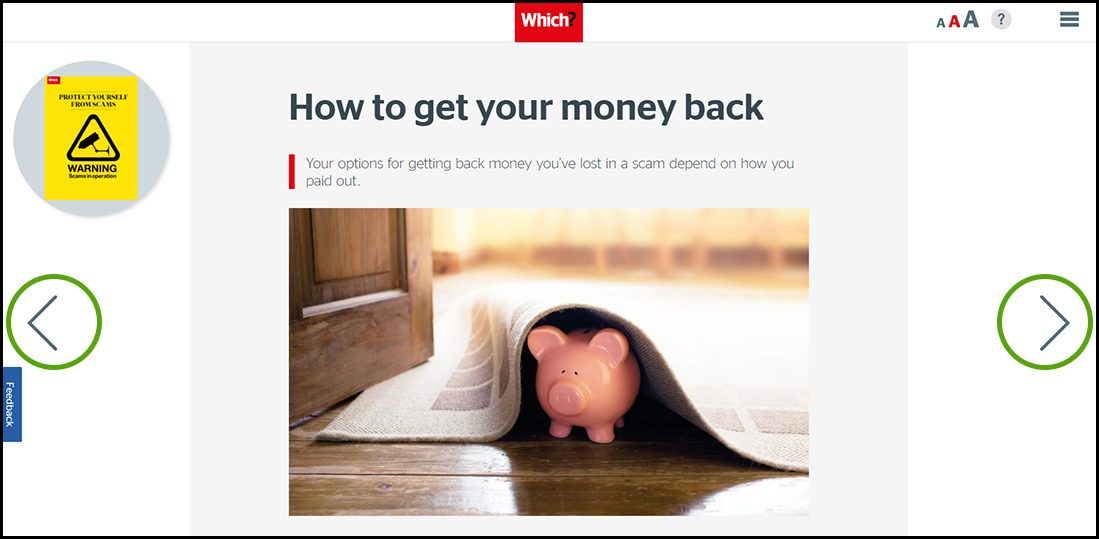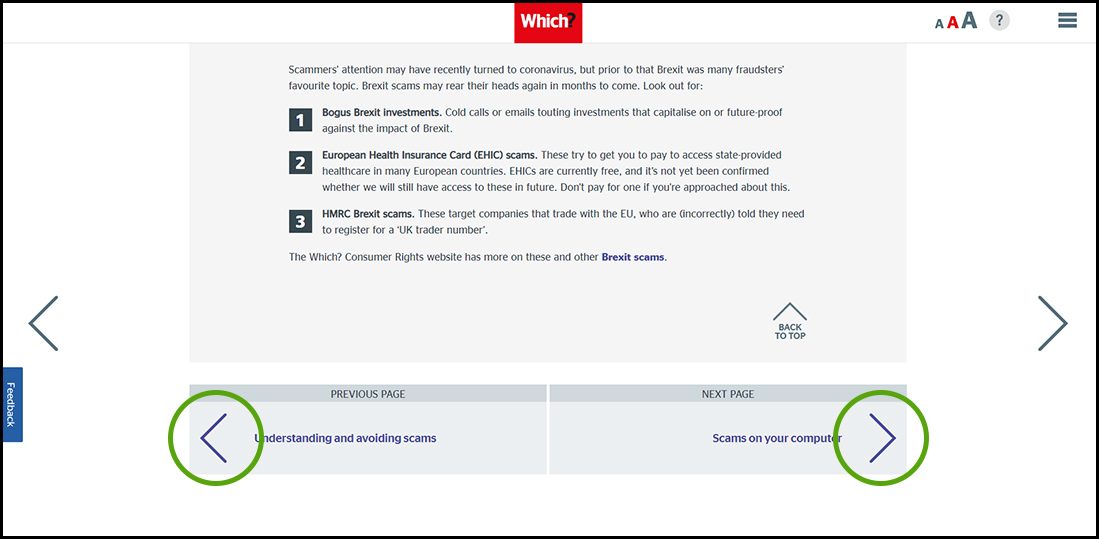 Menu/table of contents
Click or tap on the three horizontal lines in the top-right of your screen to open the main menu/table of contents. This icon is always visible whether you're using a computer, tablet or smartphone. The menu will open on top of the page you're on. Click on any section title to visit that section. Click the cross at any time to close the table of contents.
Text size
On a computer, you'll see three different sized letter 'A's in the top-right of your screen. On a smartphone or tablet these are visible when you open the menu (see above). If you're having trouble reading the guide, click or tap on each of the different 'A's to change the size of the text to suit you.
Pictures
On some images you'll see a blue double-ended arrow icon. Clicking or tapping on this will expand the picture so you can see more detail. Click or tap on the blue cross to close the expanded image.
Where we think a group of images will be most useful to you, we've grouped them together in an image gallery. Simply use the blue left and right arrows to scroll through the carousel of pictures.
Links
If you see a word or phrase that's bold and dark blue, you can click or tap on it to find out more. The relevant website will open in a new tab.
Jargon
If you see a word or phrase underlined, click or tap on the word and small window will pop up with a short explanation. Close this pop-up by clicking or tapping the cross in the corner.
Help
On a computer, you'll see a question mark icon in the top-right of your screen. On a smartphone or tablet this is visible when you open the menu (see above).
Clicking or tapping on the question mark will open this user guide. It opens on top of the page you're on and you can close it any time by clicking or tapping the cross in the top-right corner.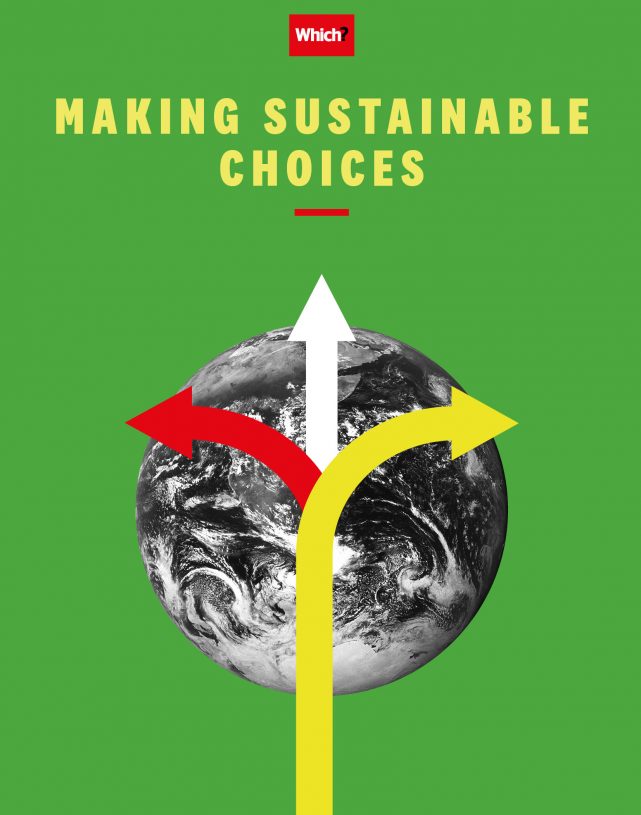 Buy less, buy smarter, buy sustainable
Changing a few habits is really all you need to do when you're purchasing a new product. Here are a few easy ways you can make a difference

Remember when we used to visit the supermarket and put all our groceries into a fresh plastic bag each time? It seems incomprehensible today when it's the norm to carry a reusable bag. This small change is about simply shopping with a conscience, and making more wise everyday choices like these can soon add up.
10 small ways to make a big difference
Only buy products you need – and be careful with discounts
Think carefully before making a purchase, especially when there are sales and discounts. Yes, it'd be nice to have a breadmaker filling the kitchen with a mouthwatering aroma, but if you're only going to use it once or twice, why buy it in the first place? Make sure you're getting a good deal with our advice on how to get the best price when shopping.

Opt for reliable brands that will support you after your purchase
You may have to fork out more for a high-quality product, but if it stands the test of time, it's an investment that's worth making. Read our Which? reviews before you buy. Reliability advice is built in to lots of them and we have specific reliability guides for the likes of laptops and smartwatches, too. For smart devices, make sure to buy from a brand who will support you with security updates for as long as possible.

Remember repairability
To avoid having to throw something away when it stops working properly, choose items that can be repaired more easily. Consider whether you can access the inner workings of a product and also whether replacement parts might be available. Be particularly aware of buying cordless gadgets because some batteries can't be replaced. We take this into account with our Best Buys.
For some common appliance fixes and more on new 'right to repair' legislation, see Handle with care – and repair.

Don't upgrade for the sake of it
It is tempting to upgrade a mobile phone, TV or pair of trainers because you fancy something new. However, if there's still life in the items you own, it's more eco-friendly to give them some TLC to help them to go the distance.

Upcycle more
It's easy to bring new life to an old kitchen chair by either painting the legs or upholstering a padded seat. But what else in your home could be upcycled? Instead of replacing kitchen cupboard doors, just give them a lick of paint.

Tips for shopping sustainably

We're here to help you make sustainable choices when you're shopping this winter. Our guidance can help you work out your impact and how to reduce it. You'll find our advice on buying and living sustainably on our site.

Shop sustainably



Give your furniture away
There are more services than ever to help you to deal with getting rid of old furniture without throwing it away. Our article on Which? Conversation lays out your options to donate, reuse or resell old items. Another way a bookshelf or dining table can get a second chance at life is via a new Buy Back scheme introduced by Ikea. Return any furniture that you bought at the store and, depending on its condition, you may receive up to 50% of its original price.

Learn to share
Don't buy items that you will only use infrequently, such as a hedge trimmer or hand drill. Instead ask a family member, friend or neighbour if they have one you can borrow, or buy one between you to share. If you aren't connected with your community, try an app like Streetbank or OLIO, which can help you to find what you need or offer what you've got.

Love preloved
Search for second-hand items – whether that's clothes, furniture, books or kids' toys. It helps to reduce waste and you may be amazed what you can find at a charity shop, car boot sale or online.

Think about how far products have travelled before you buy them
Most environmental harm is created in the production of an item, followed by our use of it. Unfortunately, investigating the entire lifecycle of a product is incredibly complex, even for Which?. Something much easier is to look at where a product has been sourced from, made or harvested. Although it's much less significant, shipping has a part to play – fewer miles means less

CO2.

Carbon dioxide (CO2)

A gas that occurs naturally in the Earth's atmosphere and is also the main greenhouse gas produced by human activities


Some industries have more information available on their environmental impact, such as the fashion industry. Check out our guide for how to shop sustainably when buying new clothes.
10. Choose Eco Buys
Always look for our Which? Eco Buy label that highlights the products that will have less of an environmental impact while still doing their job well. You can apply a filter when you're searching our reviews, too.

Just like our Best Buys, the new Eco Buy is backed up by rigorous research and we've found out that you don't have to pay a premium to make a sustainable choice. Check out the Eco Buys for washing machines, dishwashers, built-in ovens, tumble dryers, fridges and fridge freezers – with more to come soon.