User guide
Finding your way around the guide
To navigate between pages, click or tap the arrows to go forwards to the next page or backwards to the previous one. The arrows can be found either side of the page and at the bottom, too (circled in green, below).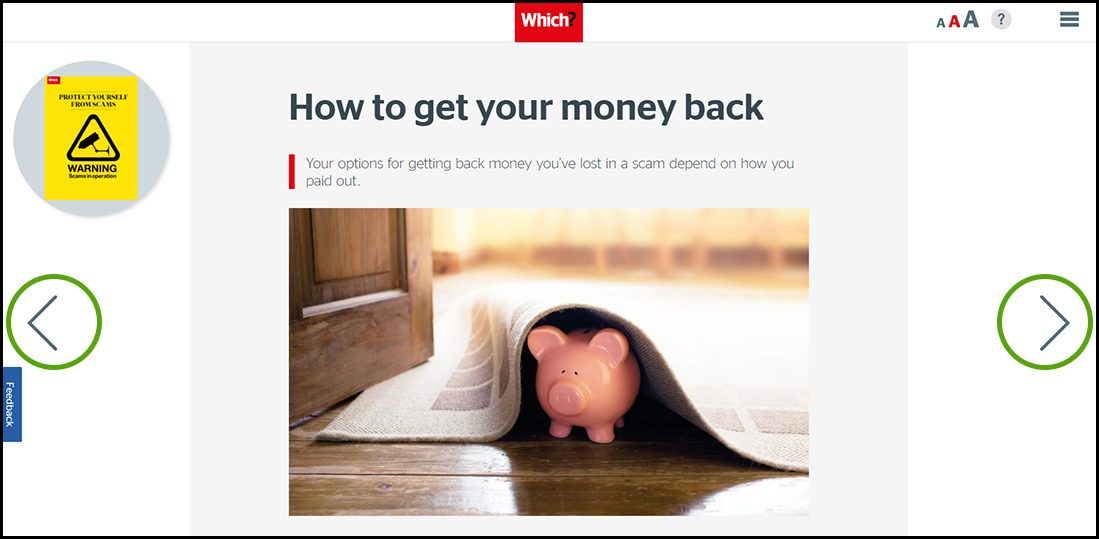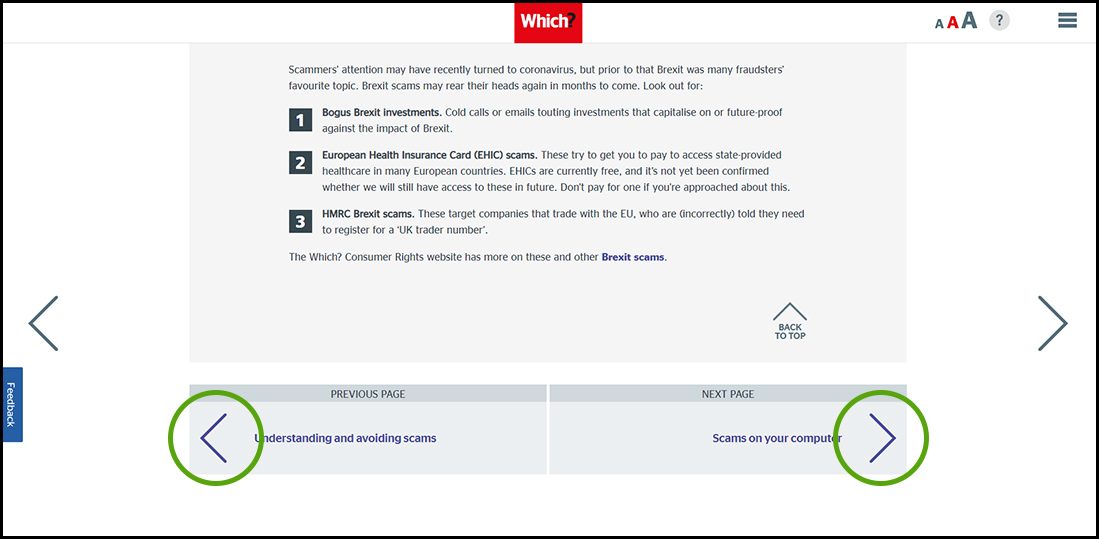 Menu/table of contents
Click or tap on the three horizontal lines in the top-right of your screen to open the main menu/table of contents. This icon is always visible whether you're using a computer, tablet or smartphone. The menu will open on top of the page you're on. Click on any section title to visit that section. Click the cross at any time to close the table of contents.
Text size
On a computer, you'll see three different sized letter 'A's in the top-right of your screen. On a smartphone or tablet these are visible when you open the menu (see above). If you're having trouble reading the guide, click or tap on each of the different 'A's to change the size of the text to suit you.
Pictures
On some images you'll see a blue double-ended arrow icon. Clicking or tapping on this will expand the picture so you can see more detail. Click or tap on the blue cross to close the expanded image.
Where we think a group of images will be most useful to you, we've grouped them together in an image gallery. Simply use the blue left and right arrows to scroll through the carousel of pictures.
Links
If you see a word or phrase that's bold and dark blue, you can click or tap on it to find out more. The relevant website will open in a new tab.
Jargon
If you see a word or phrase underlined, click or tap on the word and small window will pop up with a short explanation. Close this pop-up by clicking or tapping the cross in the corner.
Help
On a computer, you'll see a question mark icon in the top-right of your screen. On a smartphone or tablet this is visible when you open the menu (see above).
Clicking or tapping on the question mark will open this user guide. It opens on top of the page you're on and you can close it any time by clicking or tapping the cross in the top-right corner.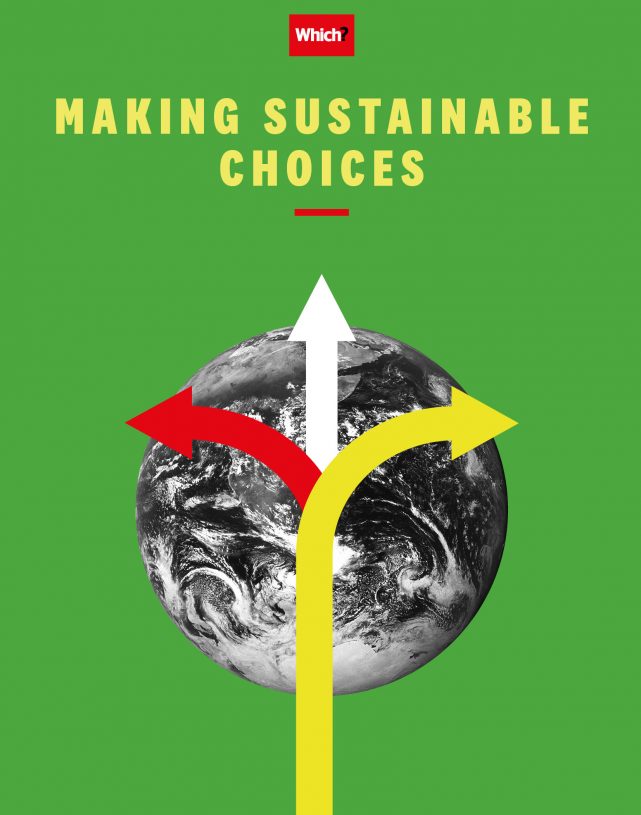 Switch to greener energy
If we all relied on the likes of wind, sun and water for energy, instead of fossil fuels, chances are the future will be a brighter place

At first glance it seems to be a no-brainer – if households stopped using fossil fuels Fossil fuelsNaturally occurring materials such as coal, oil and natural gas that formed in the geological past from the remains of living organisms. When burned, they release CO2 into the atmosphere and opted for greener energy instead, we'd reduce the levels of dangerous CO2 Carbon dioxide (CO2)A gas that occurs naturally in the Earth's atmosphere and is also the main greenhouse gas produced by human activities that are being emitted into the atmosphere. But it's not that straightforward because buying a renewable tariff doesn't guarantee that the electricity coming directly into your home is from renewable sources. When renewable electricity is generated, it goes into the National Grid along with all the other electricity – it's impossible to separate it out to supply to specific homes.
Choosing a green or renewable energy Renewable energyEnergy generated from renewable sources such as biomass, wind and solar tariff is further complicated because there is no established definition. Providers can do one or some of the following to say a tariff has 100% renewable electricity (and not all companies make it clear which of these they do):
Generate renewable electricity itself, or own renewable generation.
Have contracts to buy renewable electricity directly from generators.
Match customers' electricity use with renewable generation by buying certificates.

But this doesn't mean it's not worth opting for renewable tariffs. Some of them help to encourage more renewable electricity to be generated. Just be aware that if you want a tariff from a provider that generates all its own renewable electricity, you might need to pay more.
With an increasing choice of renewable tariffs available, try to do your research before you commit, to see if the company is doing what you expect. At Which? we're working on ways to make it easier for you to make these green energy decisions. We're continuing to research and investigate renewable energy and we're currently looking at whether we can factor sustainability into our decisions about Which? Recommended Providers.
Generate your own energy
If you want to reduce your carbon footprint Carbon footprintThe amount of carbon dioxide (or the equivalent in other greenhouse gases) released into the atmosphere as a result of the activities of an individual or organisation even more, you could consider investing in low-carbon heating or electricity for your home. It can take a couple of decades to recoup your initial investment, but if you're not planning to move any time soon, it may be an attractive option.
Solar panels. It's estimated that 900,000 homes in the UK already have solar panels. They're one of the cheapest forms of at-home renewable energy to install, and the savings on energy bills can be substantial – potentially around £300 a year if you live in the South East of England and are at home all day. But it's worth noting that

solar PV panels

Solar PV panels

Solar PV (short for photovoltaic) systems convert energy from the sun into electricity

provide electricity, not heating. Homes that have these typically still require a gas boiler, too.
Heat pumps. Air and ground-source heat pumps absorb naturally-occurring heat either from outside air or underground and boost its temperature to heat your home or hot water. Heat pumps and their installation are pricey – upwards of £10,000 – and you need to have a well-insulated home first (see box below), but you may be able to take advantage of the Renewable Heat Incentive (RHI) scheme, which is available until March 2022. Further help will need to be available if the government is to meet its ambitious target to have heat pumps gradually replace gas boilers over the coming decades.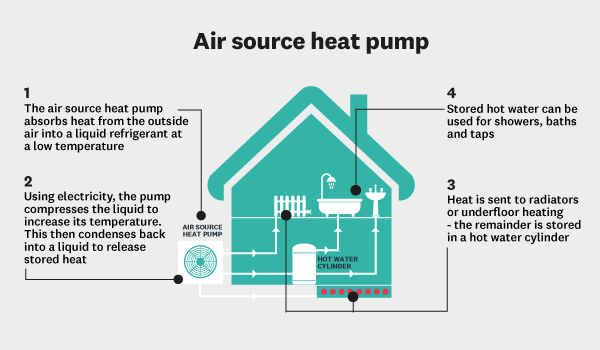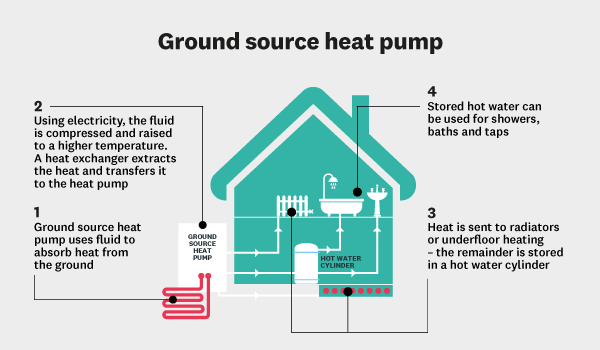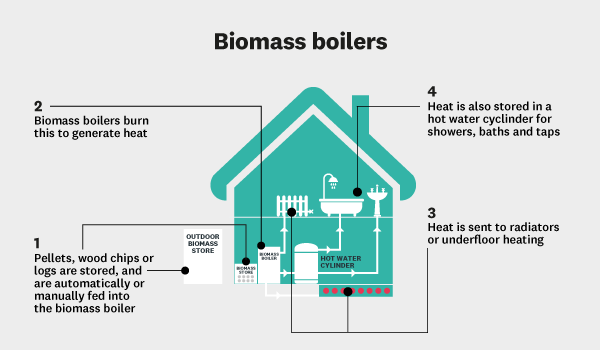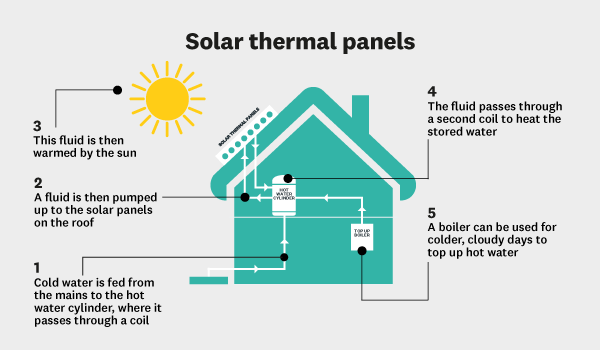 Home improvements
When you're heating your home, you want to hang on to as much of the heat as possible. Keeping warmth circulating internally will benefit your pocket and the planet.
Improve your home's efficiency with these home improvements:

And, if you need someone to help with the work, find the right person for the job by using Which? Trusted Traders.