User guide
Finding your way around the guide
To navigate between pages, click or tap the arrows to go forwards to the next page or backwards to the previous one. The arrows can be found either side of the page and at the bottom, too (circled in green, below).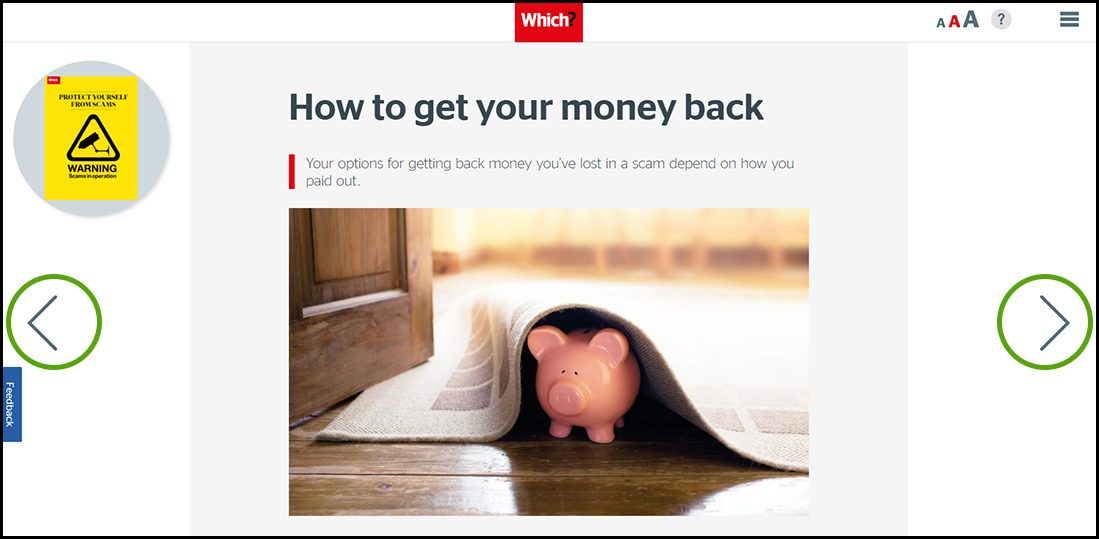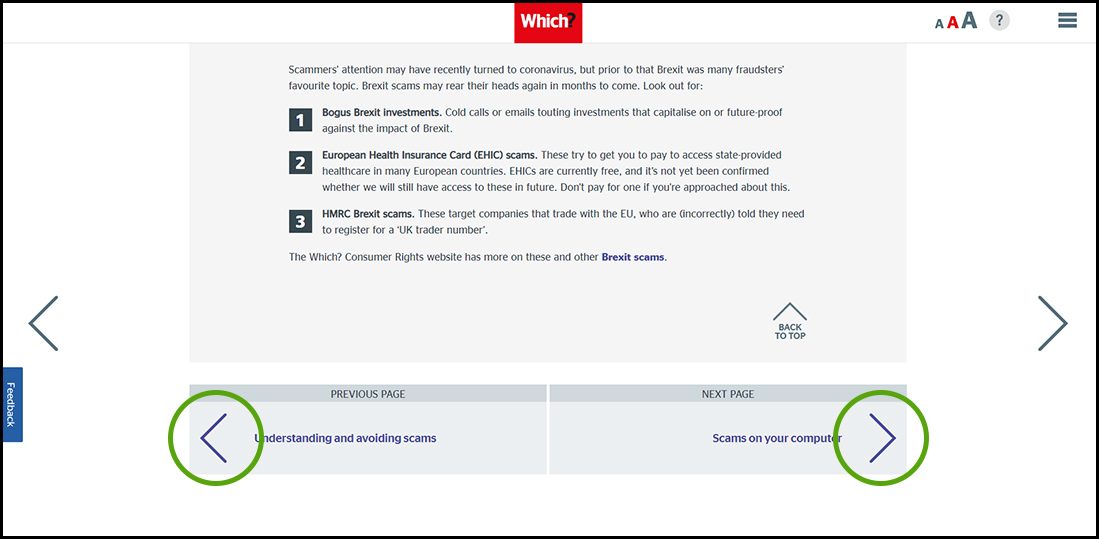 Menu/table of contents
Click or tap on the three horizontal lines in the top-right of your screen to open the main menu/table of contents. This icon is always visible whether you're using a computer, tablet or smartphone. The menu will open on top of the page you're on. Click on any section title to visit that section. Click the cross at any time to close the table of contents.
Text size
On a computer, you'll see three different sized letter 'A's in the top-right of your screen. On a smartphone or tablet these are visible when you open the menu (see above). If you're having trouble reading the guide, click or tap on each of the different 'A's to change the size of the text to suit you.
Pictures
On some images you'll see a blue double-ended arrow icon. Clicking or tapping on this will expand the picture so you can see more detail. Click or tap on the blue cross to close the expanded image.
Where we think a group of images will be most useful to you, we've grouped them together in an image gallery. Simply use the blue left and right arrows to scroll through the carousel of pictures.
Links
If you see a word or phrase that's bold and dark blue, you can click or tap on it to find out more. The relevant website will open in a new tab.
Jargon
If you see a word or phrase underlined, click or tap on the word and small window will pop up with a short explanation. Close this pop-up by clicking or tapping the cross in the corner.
Help
On a computer, you'll see a question mark icon in the top-right of your screen. On a smartphone or tablet this is visible when you open the menu (see above).
Clicking or tapping on the question mark will open this user guide. It opens on top of the page you're on and you can close it any time by clicking or tapping the cross in the top-right corner.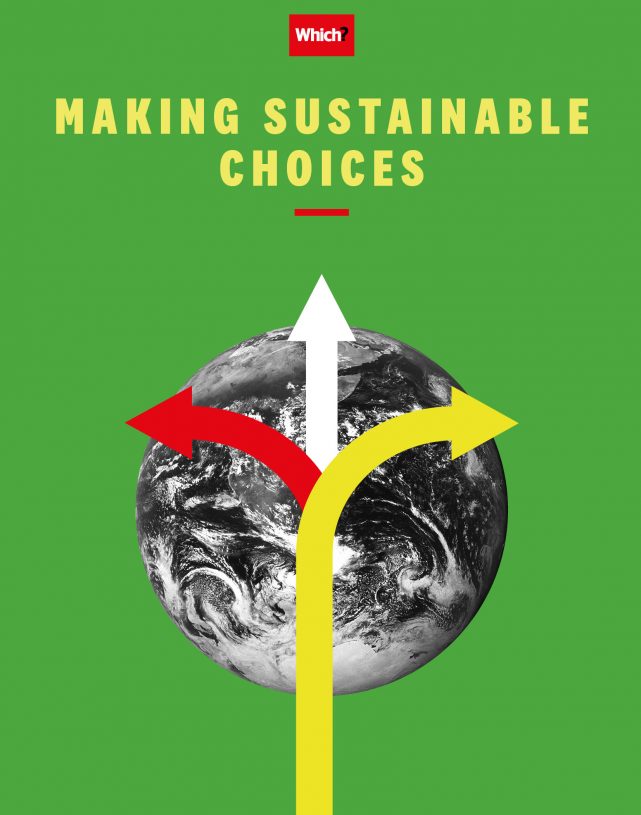 Overhaul your holidays
The world was once our oyster, but then Covid-19 came along and put a stop to travel plans. So is now the ideal time to reflect on your holiday habits?

Holidays were off the agenda for much of 2020, and for the first half of 2021, too. But with Covid-19 restrictions easing and the UK opening up again, we might get to enjoy a well-earned break soon. However, responsible travellers have long been concerned about the impact of flying and tourism, and how they can visit worldwide destinations without destroying the world. Here are our top travel tips.
A journey to greener travel

Visit a lesser-known destination
Swap a popular holiday hotspot for somewhere a little quieter. Not only will it lessen your impact on places that are buckling under the strain of overtourism, you're also likely to have a more rewarding and cheaper experience.
Choose greener flights
If you can't travel by train, Which? Travel has found that you can reduce your

carbon footprint

Carbon footprint

The amount of carbon dioxide (or the equivalent in other greenhouse gases) released into the atmosphere as a result of the activities of an individual or organisation

by changing airlines. Budget airlines tend to have newer, lighter and more fuel-efficient aircraft that burn less carbon. They also don't carry business or first-class passengers, who because of the cabin space they occupy, are responsible for four times more

CO2.

Carbon dioxide (CO2)

A gas that occurs naturally in the Earth's atmosphere and is also the main greenhouse gas produced by human activities

Offset your flight
The easiest way to offset the CO2 you're responsible for is to donate at the checkout when booking flights – known as

carbon offsetting.

Carbon offsetting

Allows you to pay extra to help to compensate for the carbon emissions produced from your activities, usually flights, by donating money to environmental projects

However, we're not that impressed with every airline's scheme. We recommend using non-profit Atmosfair's calculator to figure out your contribution instead.
Pack light
Only 16% of people end up wearing all the clothes they take on an average holiday. If they were to reduce their luggage by a quarter, it would save 7,537 tonnes of CO2 each year – that's the equivalent of taking 2,216 cars off the road. A heavier plane, train or taxi burns more carbon, so do you really need that extra pair of jeans?
Screen your sunscreen
Sun cream is one of the reasons why coral reefs are being destroyed – an estimated 14,000 tonnes is being washed into the ocean each year. Consider wearing clothing that's more protective against the sun's rays, or choose sunscreens that steer clear of harmful chemicals.
Be a green guest
Use the 'do not disturb' sign on your hotel or apartment door so staff don't replace bed linen every day. Switch off lights and air-con when you leave the room, and hang up towels to show you're happy to reuse them.
Buy sustainable souvenirs
Don't return home with trinkets made from ivory, tortoiseshell, reptile skins, corals or seashells. Look for art or textiles from locally owned shops or market stalls, or consumables such as confectionery, spices and local wines.
Planes vs trains
Binge flying isn't sustainable, so consider only taking one long trip every so often (and choose a direct flight) and combine this with some shorter flight-free jaunts closer to home. Some journeys are actually quicker by Eurostar and the difference in environmental impact is clear.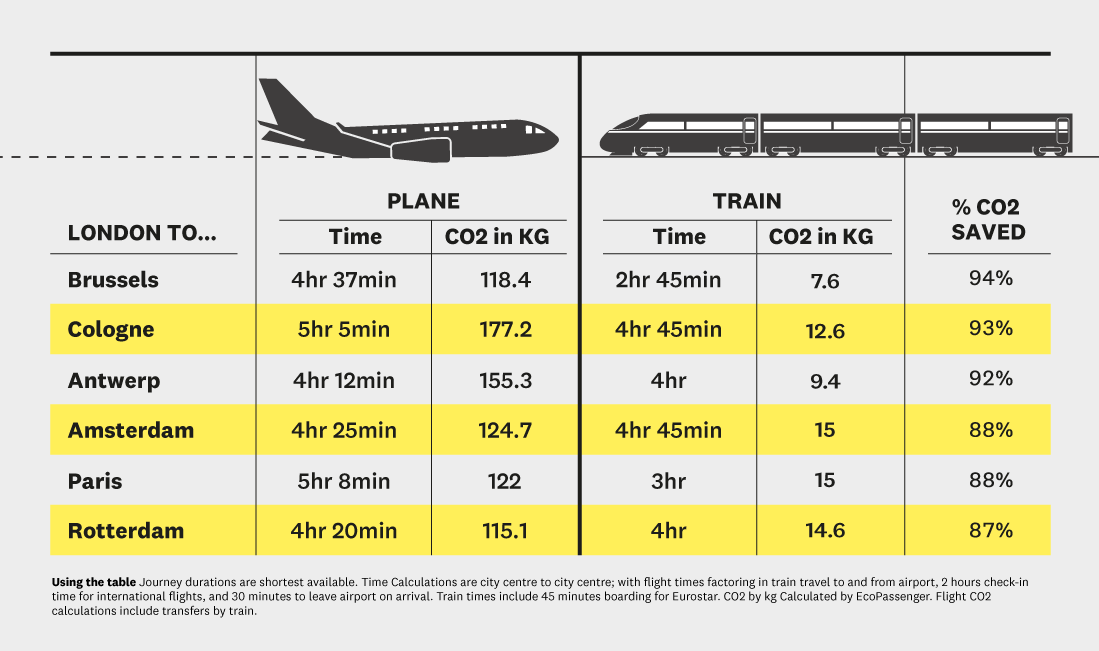 Expert view: travel
Jo Rhodes, senior rearcher/writer, Which? Travel

Covid-19 has turned our world upside down, but the pause on travel has hit the reset button on our planet. The Global Carbon Project estimates that the mass grounding of flights during the peak of the pandemic saw CO2 emissions from aviation reduce by up to 60%. Smog lifted, our coral reefs rejuvenated and wildlife thrived. Now, as the world tentatively opens up again, we have an opportunity to rethink the way we travel. Sustainability will certainly be at the forefront of what we do here at Which?. Nobody should feel guilty about going on holiday, but we want to help consumers to make better, greener choices. If we tread lightly, we can strike the right balance between exploring the world and protecting it, too.