User guide
Finding your way around the guide
To navigate between pages, click or tap the arrows to go forwards to the next page or backwards to the previous one. The arrows can be found either side of the page and at the bottom, too (circled in green, below).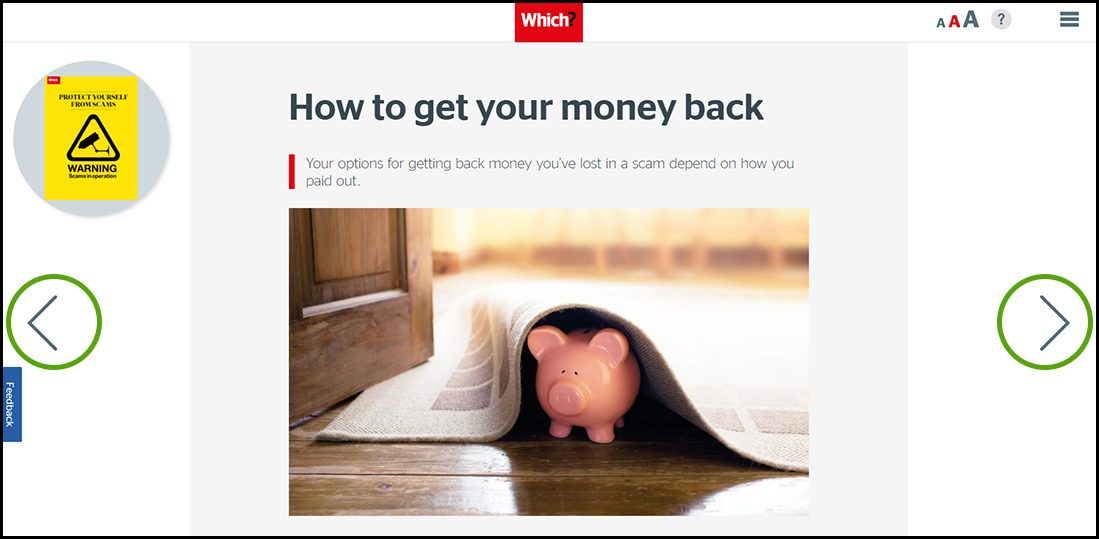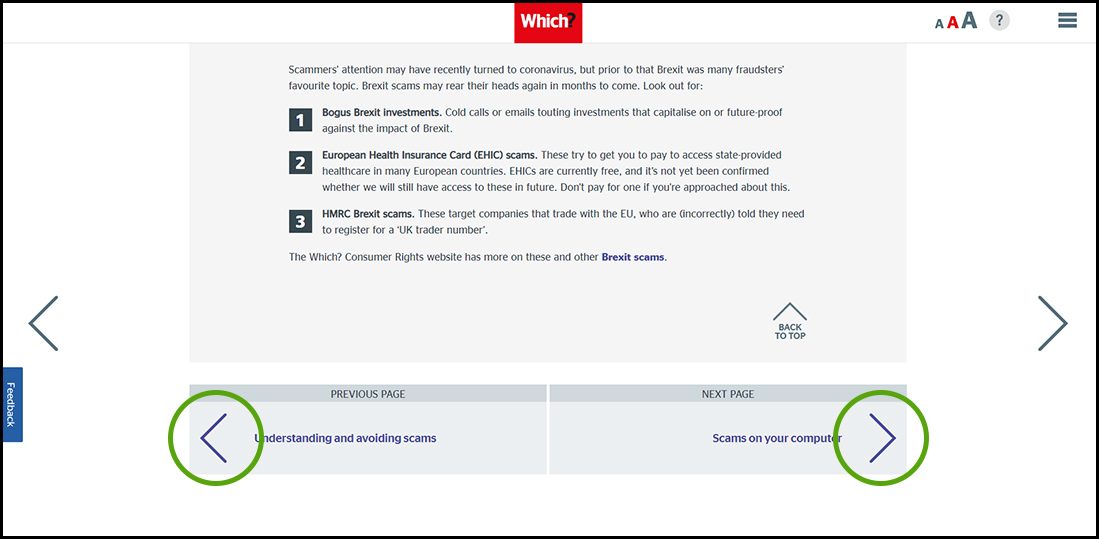 Menu/table of contents
Click or tap on the three horizontal lines in the top-right of your screen to open the main menu/table of contents. This icon is always visible whether you're using a computer, tablet or smartphone. The menu will open on top of the page you're on. Click on any section title to visit that section. Click the cross at any time to close the table of contents.
Text size
On a computer, you'll see three different sized letter 'A's in the top-right of your screen. On a smartphone or tablet these are visible when you open the menu (see above). If you're having trouble reading the guide, click or tap on each of the different 'A's to change the size of the text to suit you.
Pictures
On some images you'll see a blue double-ended arrow icon. Clicking or tapping on this will expand the picture so you can see more detail. Click or tap on the blue cross to close the expanded image.
Where we think a group of images will be most useful to you, we've grouped them together in an image gallery. Simply use the blue left and right arrows to scroll through the carousel of pictures.
Links
If you see a word or phrase that's bold and dark blue, you can click or tap on it to find out more. The relevant website will open in a new tab.
Jargon
If you see a word or phrase underlined, click or tap on the word and small window will pop up with a short explanation. Close this pop-up by clicking or tapping the cross in the corner.
Help
On a computer, you'll see a question mark icon in the top-right of your screen. On a smartphone or tablet this is visible when you open the menu (see above).
Clicking or tapping on the question mark will open this user guide. It opens on top of the page you're on and you can close it any time by clicking or tapping the cross in the top-right corner.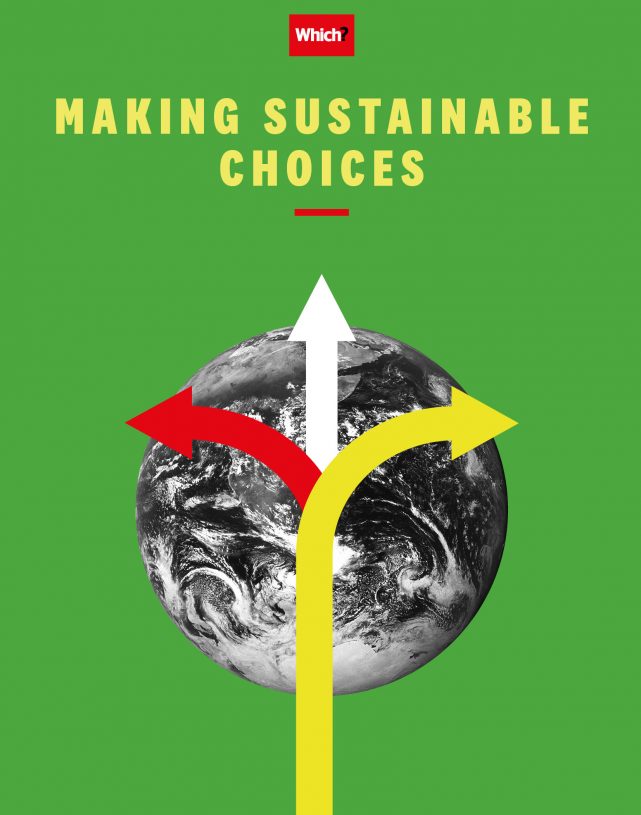 Introduction
At Which?, we regularly hear from consumers concerned about making sustainable choices in their shopping. Our focus on sustainability has been on environmental harm. That is any impact on the environment as a result of human activity – specifically climate change, air pollution and reduced biodiversity. We're trying to ask ourselves: how do we produce and consume goods and services for our needs today, in a way that does not compromise the ability of future generations to meet their needs?
During the busiest shopping period of the year, how do we continue to make appropriate choices? Recommending products that are efficient, durable and long lasting has been part and parcel of Which? since day one, so becoming a champion of sustainability is a natural progression that builds on this rich heritage. Time, however, is no longer on our side. With the world facing an environmental crisis, sustainability is an issue of increasingly urgent importance.
Which? aims to be an organisation that enables consumers to make sustainable choices, as well as an organisation that minimises its own contribution to environmental harm. Find out more about our projects and initiatives that are already underway.
This is a shorter version of our Making Sustainable Choices digital supplement that ties into our winter shopping advice. It focuses on the issues that need tackling by both governments and businesses, as well as consumers, that are impacted by Black Friday, Christmas and the January Sales. So we've included lots of information about how what we buy, use and waste affects the planet, and lots of advice to help you to maximise your sustainability efforts.
We appreciate that trying to do your bit to combat climate change can often feel overwhelming, and much depends on your personal circumstances. However, as you browse the following pages, we hope you are inspired to make just a few simple changes to your winter shopping habits. Small steps can collectively make big strides, and forming new habits doesn't have to be too much bother.
From reviewing your weekly shopping list (see Everyday essentials) to rethinking your waste (see Wise up to waste), it can be surprisingly straightforward to swap old behaviours for new, more eco-friendly ones. As the ongoing pandemic has demonstrated, people soon adapt to a different way of living and working, and nature can flourish when given the chance to do so. Wouldn't it be wonderful if together we now all emerge from Covid-19 focused on positive change, for our own health and wellbeing, and for that of our planet?