User guide
Finding your way around the guide
To navigate between pages, click or tap the arrows to go forwards to the next page or backwards to the previous one. The arrows can be found either side of the page and at the bottom, too (circled in green, below).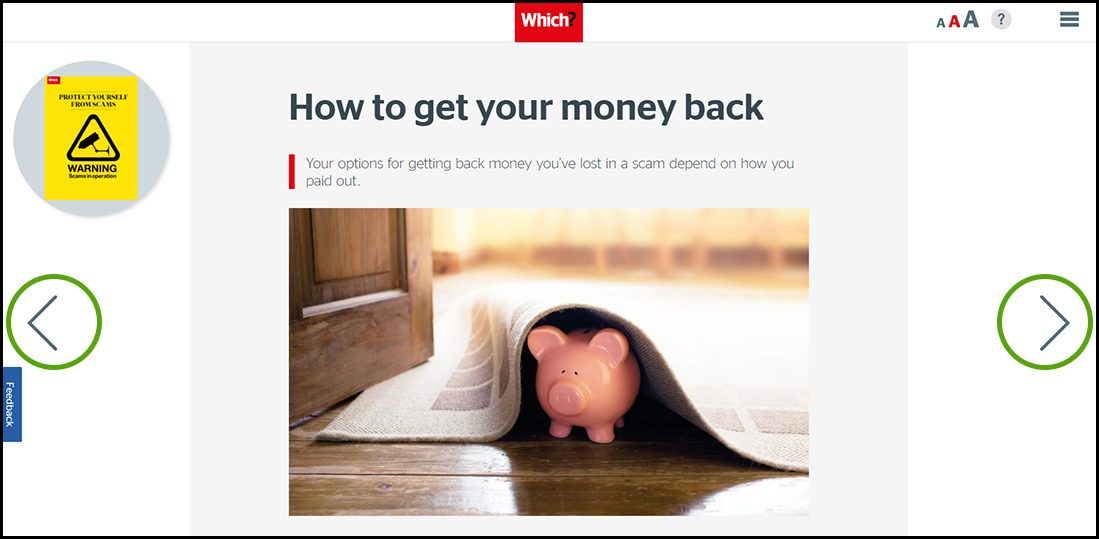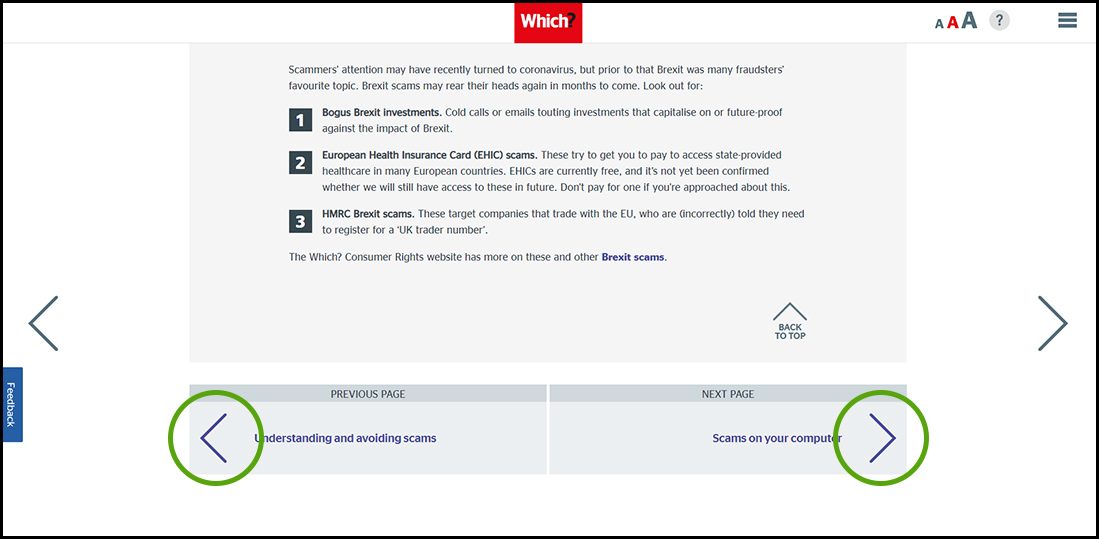 Menu/table of contents
Click or tap on the three horizontal lines in the top-right of your screen to open the main menu/table of contents. This icon is always visible whether you're using a computer, tablet or smartphone. The menu will open on top of the page you're on. Click on any section title to visit that section. Click the cross at any time to close the table of contents.
Text size
On a computer, you'll see three different sized letter 'A's in the top-right of your screen. On a smartphone or tablet these are visible when you open the menu (see above). If you're having trouble reading the guide, click or tap on each of the different 'A's to change the size of the text to suit you.
Pictures
On some images you'll see a blue double-ended arrow icon. Clicking or tapping on this will expand the picture so you can see more detail. Click or tap on the blue cross to close the expanded image.
Where we think a group of images will be most useful to you, we've grouped them together in an image gallery. Simply use the blue left and right arrows to scroll through the carousel of pictures.
Links
If you see a word or phrase that's bold and dark blue, you can click or tap on it to find out more. The relevant website will open in a new tab.
Jargon
If you see a word or phrase underlined, click or tap on the word and small window will pop up with a short explanation. Close this pop-up by clicking or tapping the cross in the corner.
Help
On a computer, you'll see a question mark icon in the top-right of your screen. On a smartphone or tablet this is visible when you open the menu (see above).
Clicking or tapping on the question mark will open this user guide. It opens on top of the page you're on and you can close it any time by clicking or tapping the cross in the top-right corner.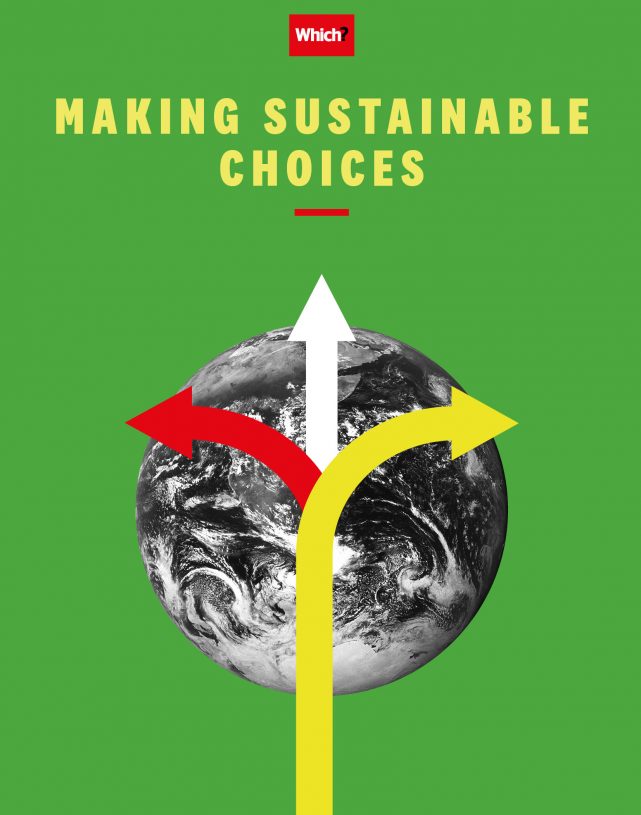 The UK's priorities
With the UK government striving to make the country net zero by 2050, challenging goals have been put in place. So what changes are in store for us?

The UK aims to be net zero Net zeroA target of completely negating the amount of greenhouse gases produced by human activity, to be achieved by reducing emissions and implementing methods of absorbing CO2 from the atmosphere by 2050. This means we intend to be taking the same amount of greenhouse gases Greenhouse gasesNaturally and human-produced gases, including carbon dioxide, that trap heat in the atmosphere and warm the Earth's surface, contributing to global warming out of the atmosphere as we put in. A huge reduction in emissions is needed, alongside a significant increase in the total amount of greenhouse gases removed, using methods ranging from planting more trees to developing carbon capture Carbon capture and storageA way of reducing carbon emissions. Carbon dioxide (CO2) emissions from power generation or industrial processes are captured, transported via ship or in a pipeline, and then stored deep underground in geological formations technology.
It's an ambitious yet necessary target – but there's some good news. Over the past 30 years, the UK has significantly reduced its emissions by 48.8%, mainly through changes in the way we produce energy and a shift towards renewable offshore wind production, and more recently because of the coronavirus pandemic. So, perhaps we can be optimistic about what can be achieved in the next three decades?
However, decarbonisation of housing, business, transport and agriculture remains a significant challenge. The government is hoping to address some of these issues in their 10-point green plan. The targets highlighted in the document include:
By 2025

Set up more than 1,000 miles of safe and direct cycling and walking networks.
Consult on a Sustainable Aviation Fuels mandate in the UK to blend greener fuels into

kerosene,

Kerosene

Kerosene, also known as paraffin, is a combustible hydrocarbon liquid derived from petroleum. It is widely used as a fuel in aviation

to create a demand for alternative fuels.
Introduce mandatory reporting of climate-related financial information across the economy.

By 2028

Help to install 600,000 heat pumps every year in buildings across the UK.

By 2030

End the sale of new petrol and diesel cars and vans.
Quadruple offshore wind capacity so as to generate more power than all our homes use today.
Develop 5

GW

GW (gigawatt)

The gigawatt (GW) is a measure of power and is equal to one billion watts

of low-carbon hydrogen production capacity.
Establish four carbon capture, usage and storage sites to capture 10

Mt of CO2

Mt of CO2

Metric tons of carbon dioxide

– the equivalent of four million cars' worth of annual emissions.
Commit to protect and improve 30% of England's landscapes, safeguarding National Parks and Areas of Outstanding Natural Beauty.

By 2050

Deliver new and advanced nuclear power, a reliable source of low-carbon electricity.
This all feeds into an international conversation, too, which will develop and intensify when Glasgow hosts the 2021 United Nations Climate Change Conference (also known as COP26) later this year. The COP26 summit aims to accelerate action and encourage countries to set even more ambitous targets.
Global agreements and achieving national net zero will mean changes in the cars we drive, the food we eat, how we heat our homes and the way we live our lives. It's imperative that we do change and go further and act faster than ever before – future generations are depending on us.