User guide
Finding your way around the guide
To navigate between pages, click or tap the arrows to go forwards to the next page or backwards to the previous one. The arrows can be found either side of the page and at the bottom, too (circled in green, below).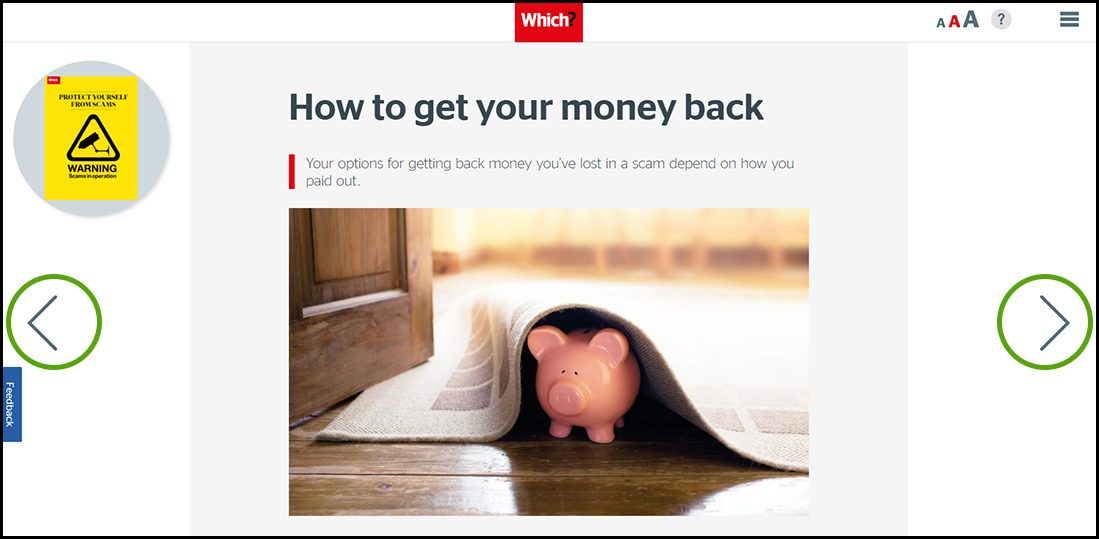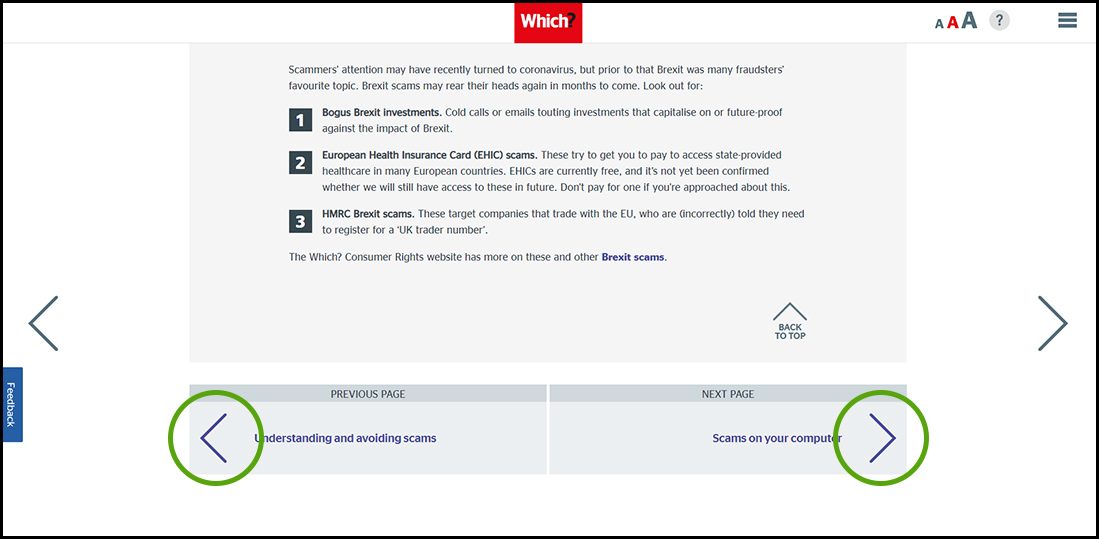 Menu/table of contents
Click or tap on the three horizontal lines in the top-right of your screen to open the main menu/table of contents. This icon is always visible whether you're using a computer, tablet or smartphone. The menu will open on top of the page you're on. Click on any section title to visit that section. Click the cross at any time to close the table of contents.
Text size
On a computer, you'll see three different sized letter 'A's in the top-right of your screen. On a smartphone or tablet these are visible when you open the menu (see above). If you're having trouble reading the guide, click or tap on each of the different 'A's to change the size of the text to suit you.
Pictures
On some images you'll see a blue double-ended arrow icon. Clicking or tapping on this will expand the picture so you can see more detail. Click or tap on the blue cross to close the expanded image.
Where we think a group of images will be most useful to you, we've grouped them together in an image gallery. Simply use the blue left and right arrows to scroll through the carousel of pictures.
Links
If you see a word or phrase that's bold and dark blue, you can click or tap on it to find out more. The relevant website will open in a new tab.
Jargon
If you see a word or phrase underlined, click or tap on the word and small window will pop up with a short explanation. Close this pop-up by clicking or tapping the cross in the corner.
Help
On a computer, you'll see a question mark icon in the top-right of your screen. On a smartphone or tablet this is visible when you open the menu (see above).
Clicking or tapping on the question mark will open this user guide. It opens on top of the page you're on and you can close it any time by clicking or tapping the cross in the top-right corner.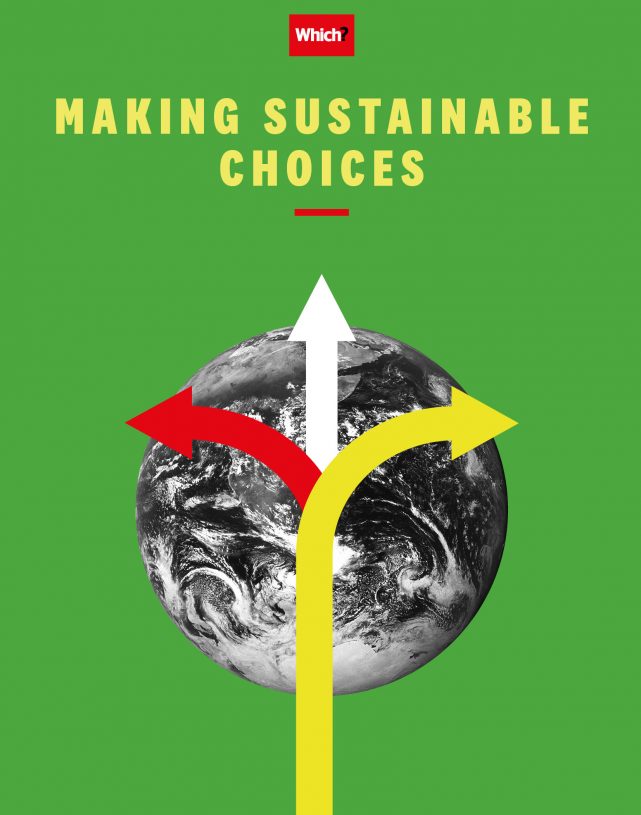 Our priorities
Discover more about the sustainability issues that Which? is ready to tackle, and our five focus areas that we know cause the most environmental harm

Sustainability is a complex topic with many strands to it. There is much Which? could do as an organisation, but we wanted to be sure that we could identify and prioritise areas where we could make the most impact for consumers and for the planet. We also wanted to be confident that we would be addressing the needs and concerns of UK consumers and taking their views and ideas into account.
In order to develop our approach to sustainability at Which?, we decided to undertake two significant projects: we reviewed existing evidence from a range of sources and we conducted our own research with consumers, too.
The results and our analysis of the information collected has highlighted how our behaviour and choices as consumers can cause environmental harm. We also now have a better insight into consumer concerns and what support Which? can provide to help to tackle climate change – essentially where we can make the biggest difference.

Overwhelmingly, this work showed how the things we do, and the things we buy – and how we consume and dispose of them – contribute to environmental harm in five main areas of our lives. These are:

The evidence review also drew our attention to the fact that much of the damage happening to our planet is embedded – it isn't only a result of how we use the products we buy, it's also created in the production and distribution of those products.

Our sustainability focus
The findings of our review and research highlighted the need for Which? to put together a list of priorities. So much could be done to support consumers and contribute to tackling environmental harm, but we want to use the expertise and influence of Which? to maximum effect. Teams across the organisation are now working together on our sustainability priorities. These aren't the only areas we will tackle, but they give us the best starting point and focus to make a difference.
Which? is all too aware of greenwashing, too, hence our determination to provide facts and advice you can trust.
Expert View: consumer research
Pohlin Carter-Lau, insight manager

We've had our ear to the ground on sustainability for a while. But, given who we are as an organisation, we really wanted to get under the skin of this topic ourselves. Last year, we undertook our own research study, speaking to over 2,000 people like you from all over the UK and all walks of life.
The result? We can use everything we've heard to tap into the aspects of sustainability that you care about the most. It's why we're focusing on environmental harm and why we know we need to do more to hold the government and businesses to account – because that's where you feel the greatest responsibility lies. We'll keep using consumer research to keep fighting your corner.