User guide
Finding your way around the guide
To navigate between pages, click or tap the arrows to go forwards to the next page or backwards to the previous one. The arrows can be found either side of the page and at the bottom, too (circled in green, below).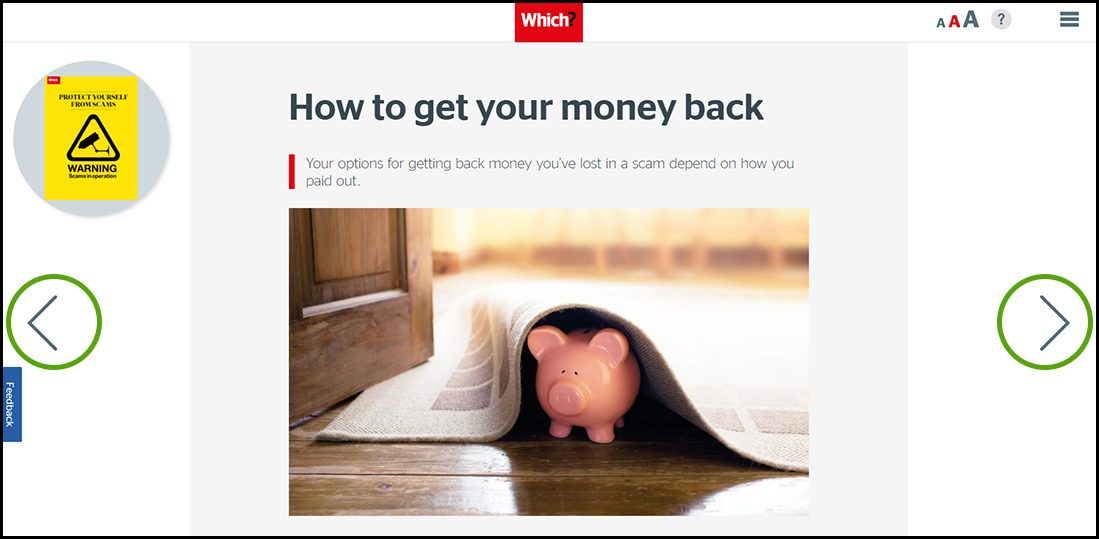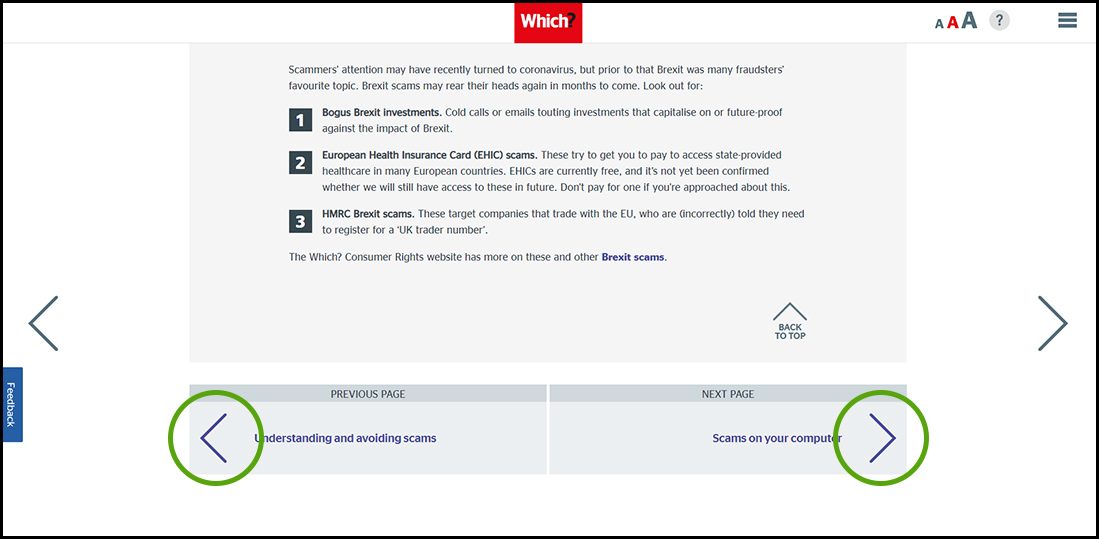 Menu/table of contents
Click or tap on the three horizontal lines in the top-right of your screen to open the main menu/table of contents. This icon is always visible whether you're using a computer, tablet or smartphone. The menu will open on top of the page you're on. Click on any section title to visit that section. Click the cross at any time to close the table of contents.
Text size
On a computer, you'll see three different sized letter 'A's in the top-right of your screen. On a smartphone or tablet these are visible when you open the menu (see above). If you're having trouble reading the guide, click or tap on each of the different 'A's to change the size of the text to suit you.
Pictures
On some images you'll see a blue double-ended arrow icon. Clicking or tapping on this will expand the picture so you can see more detail. Click or tap on the blue cross to close the expanded image.
Where we think a group of images will be most useful to you, we've grouped them together in an image gallery. Simply use the blue left and right arrows to scroll through the carousel of pictures.
Links
If you see a word or phrase that's bold and dark blue, you can click or tap on it to find out more. The relevant website will open in a new tab.
Jargon
If you see a word or phrase underlined, click or tap on the word and small window will pop up with a short explanation. Close this pop-up by clicking or tapping the cross in the corner.
Help
On a computer, you'll see a question mark icon in the top-right of your screen. On a smartphone or tablet this is visible when you open the menu (see above).
Clicking or tapping on the question mark will open this user guide. It opens on top of the page you're on and you can close it any time by clicking or tapping the cross in the top-right corner.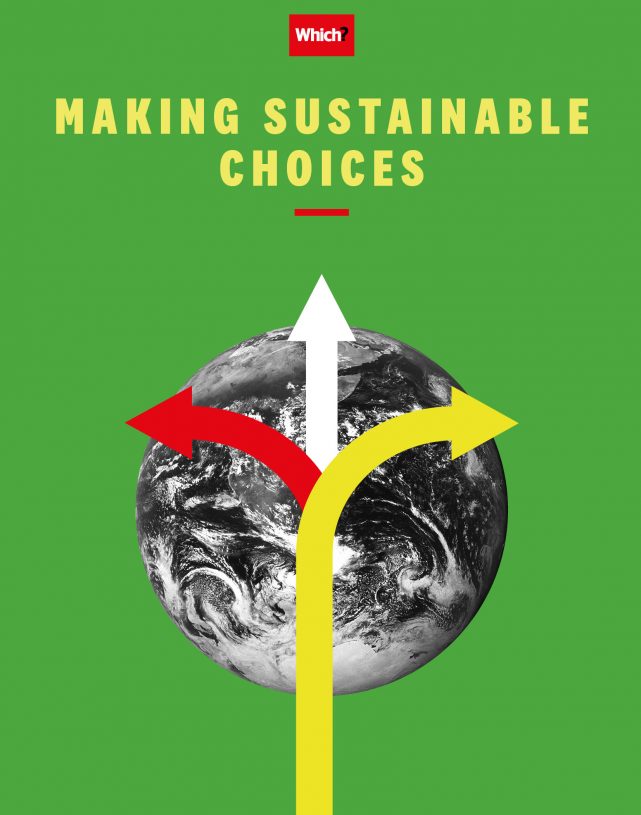 Gear up to greener driving
After 2030 you'll no longer be able to buy a new petrol or diesel car, so prepare to get behind the wheel of an alternative
It's less than a decade until the sale of new petrol and diesel cars will be banned in the UK. Car owners are no longer thinking about if they will switch to a hybrid Hybrid carHybrid cars combine a conventional engine (usually petrol, but diesel hybrids are also available) with electric power. There are three types: mild hybrids, full or 'self-charging' hybrids and plug-in hybrids (PHEVs) or electric car, Electric carA zero-emission car that is powered entirely by a battery-driven electric motor they're now deciding when that transition will happen. In 2020, the demand for new electric, hybrid and plug-in hybrid cars almost tripled – one in 10 of all cars sold were electrified.
Why choose a hybrid car?

If you're not quite ready to commit to an electric car, they could be the ideal stepping stone from an internal combustion vehicle.
Some hybrids we've tested exceed their conventional counterparts for fuel economy, from tiny superminis to large SUVs.
Our annual Which? car survey reveals that hybrid vehicles suffer fewer faults and breakdowns than petrol and diesel cars.
Note that there are three types of hybrid cars – mild, full or 'self-charging' and plug-in hybrids (PHEVs). They all have a combustion engine, electric motor and battery, but each has its own advantages and depends on how and where you drive.
Worth knowing…

Hybrid cars can be expensive to buy, but prices are falling and they're cheaper than electric cars.
Which? tests show some hybrid models, including plug-in hybrids, come up short on their fuel economy claims, especially on the motorway.
Batteries are usually located at the rear of the car and can take up valuable luggage space.
Read about the best hybrid cars for 2021.
Why choose an electric car?

Electric cars have no engine or exhaust pipe so they do not emit

CO2

Carbon dioxide (CO2)

A gas that occurs naturally in the Earth's atmosphere and is also the main greenhouse gas produced by human activities

or other emissions like

NOx

NOx (oxides of nitrogen)

NOx is comprised of two gasses: nitric oxide (NO) and nitrogen dioxide (NO2). Of the two, NO2 is the gas that causes us the most harm. It's an irritant that can cause inflammation of our airways, and can affect immune cells in the lungs. Over a prolonged period of time, it is thought NO2 can affect how our lungs work

– which means driving will be emissions-free.
They're currently exempt from car tax.
If you have off-street parking at home, you can keep running costs mucher lower than a petrol or diesel car – find out how much it costs to run an electric car.
Quiet and nippy, electric cars are ideal for drivers who make shorter journeys.
Government-backed grants are available towards the cost of selected new electric vehicles, but have reduced over time. As of 18 March 2021, for cars that cost less than £35,000 you can get a grant that will reduce the price of buying the car by up to 35%, up to a maximum of £2,500.

Worth knowing…

Despite not emitting CO2, there is still a CO2 cost of generating and delivering the fuel (electricity) that electric cars need. This CO2 cost combined with how efficiently the electric car uses its electricity, and how efficiently it charges, all contributes to the well-to-wheel (WTW) CO2 that we give to all cars. Our research shows WTW CO2 costs for electric cars are significantly less than petrol or diesel.
While some cars now offer a driving range in excess of 200 miles, this is still more limited than a hybrid car.
The batteries can take hours to charge, depending on what connection points are available. Find out more about how to charge an electric car at home and using charging points.
Only 8% of the UK's chargepoints are both the fastest types and currently allow payment by bank card. See below for the expert view from one of our car experts about how this needs to change.
Read about the best electric cars for 2021.
Expert view: cars
Adrian Porter, Which? cars expert

You might not drive an electric car today, but the sale of new petrol and diesel cars will be banned as of 2030. That's less than nine years away and, in that time, the number of electric cars on UK roads is expected to rise to around 12 million by 2030.
Electric cars can't just be for those who can charge at home. Millions more public chargers will be needed to charge our cars, but what infrastructure exists today in the UK is all too often disjointed, confusing and costly. It's vital we create a friendly, easy-to-use infrastructure. To start with, we're calling for five improvements and we'll continue working with the industry to encourage the switch to electric.