User guide
Finding your way around the guide
To navigate between pages, click or tap the arrows to go forwards to the next page or backwards to the previous one. The arrows can be found either side of the page and at the bottom, too (circled in green, below).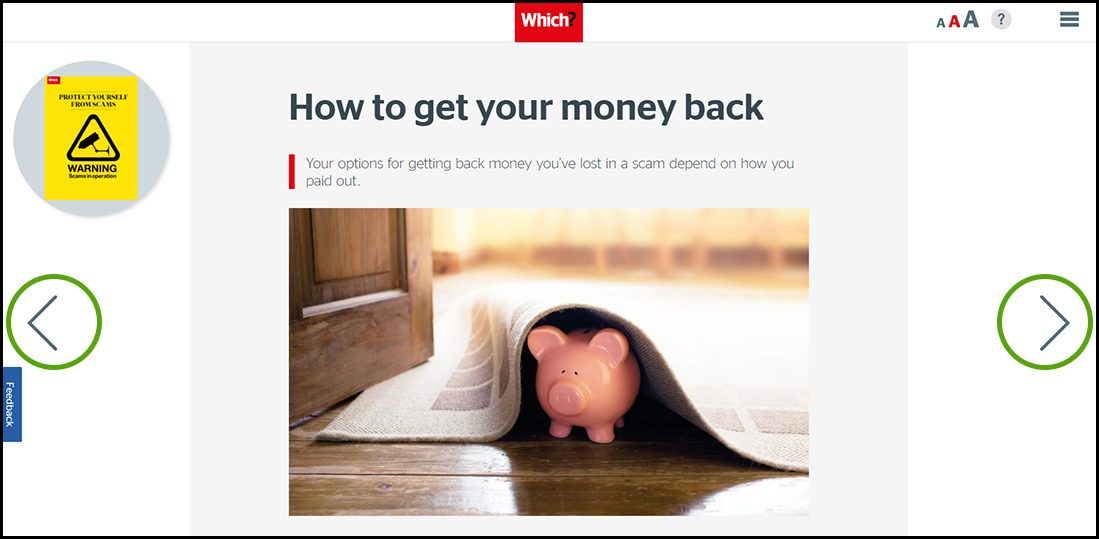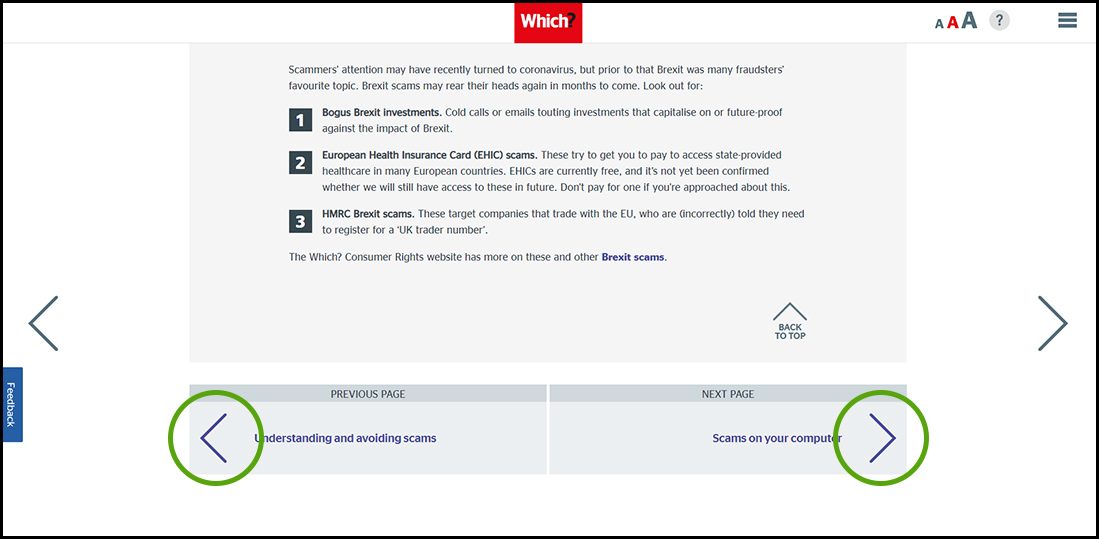 Menu/table of contents
Click or tap on the three horizontal lines in the top-right of your screen to open the main menu/table of contents. This icon is always visible whether you're using a computer, tablet or smartphone. The menu will open on top of the page you're on. Click on any section title to visit that section. Click the cross at any time to close the table of contents.
Text size
On a computer, you'll see three different sized letter 'A's in the top-right of your screen. On a smartphone or tablet these are visible when you open the menu (see above). If you're having trouble reading the guide, click or tap on each of the different 'A's to change the size of the text to suit you.
Pictures
On some images you'll see a blue double-ended arrow icon. Clicking or tapping on this will expand the picture so you can see more detail. Click or tap on the blue cross to close the expanded image.
Where we think a group of images will be most useful to you, we've grouped them together in an image gallery. Simply use the blue left and right arrows to scroll through the carousel of pictures.
Links
If you see a word or phrase that's bold and dark blue, you can click or tap on it to find out more. The relevant website will open in a new tab.
Jargon
If you see a word or phrase underlined, click or tap on the word and small window will pop up with a short explanation. Close this pop-up by clicking or tapping the cross in the corner.
Help
On a computer, you'll see a question mark icon in the top-right of your screen. On a smartphone or tablet this is visible when you open the menu (see above).
Clicking or tapping on the question mark will open this user guide. It opens on top of the page you're on and you can close it any time by clicking or tapping the cross in the top-right corner.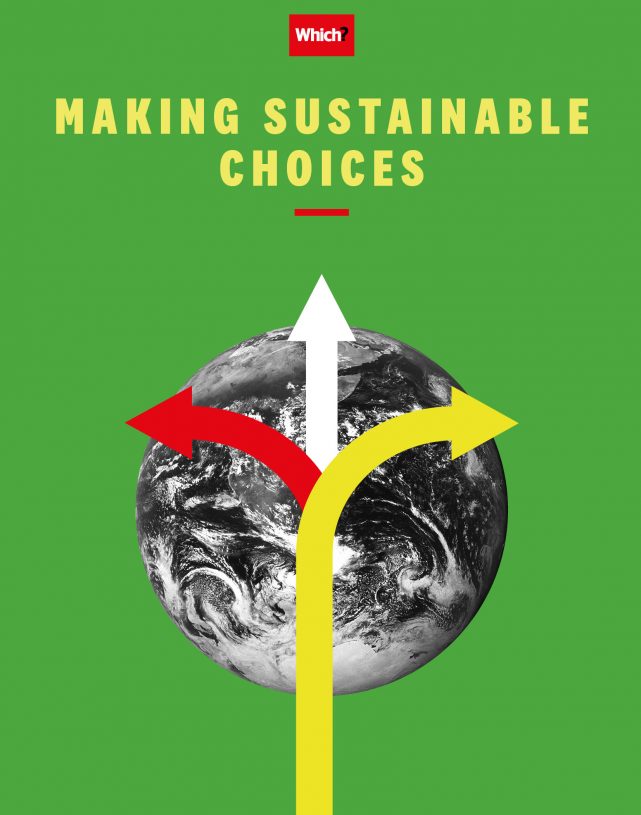 Wise up to waste
Aim to send less to landfill, recycle more – once you've got your head around confusing packaging symbols – and even get some cash for your unused or unwanted tech

Do you ever find yourself standing there in the kitchen holding a piece of packaging, unsure whether you can recycle it or not? Test your knowledge by taking our quiz.
If you struggled with your score and want to become a packaging pro, check out our guide to recycling symbols and different types of plastic. You can also take action by avoiding hard-to-recycle packaging all together.
Find out more about what else you can do to reduce your impact on our site.
Making a difference
The UK had an EU target of recycling at least 50% of household waste by 2020. The four nations each set about promoting initiatives to help to achieve this goal, but only Wales has been successful so far – the country is now considered a world leader in recycling. The UK average, however, is disappointingly only 45%, and according to Defra, Department for Environment, Food & Rural Affairs (Defra)The government department responsible for safeguarding the natural environment, supporting food and farming industries, and sustaining rural economies we are only recycling 3% more than we were a decade ago.
So what can we all do to recycle better? Follow our top tips:

Don't contaminate waste. Putting products such as nappies, plastic carrier bags and containers with food inside your recycling bin can cause all sorts of problems when it comes to sorting and processing recycling.
Clean your packaging. It doesn't need to be sparkling clean, but give all packaging a rinse before popping it into the recycling bin. Otherwise councils may end up having loads of contaminated items to incinerate.
Check your local rules. It's confusing that different councils have different guidelines and services but it's easy to visit recyclenow.com. Alongside an abundance of tips, information and advice, their handy postcode checker will tell you what happens where you live.
Check the labelling. Make sure that what you put in your recycling bin can actually be recycled – an investigation we carried out in January 2020 found that 60% of bathroom products had no recycling information on their packaging. Find out how to choose more sustainable bathroom products.
You can find out more about how to improve your recycling on our website.
What to do with your unused electricals
Assuming you've got the most out of a product, and there is no hope of repair (see Handle with care – and repair), some local councils will collect small electrical items such as alarm clocks, kettles, toasters, hairdryers and shredders as part of their kerbside collection. Alternatively, you can often recycle these and larger items at household waste recycling centres. Again, check recyclenow.com for advice for your area.
Tech waste is particularly problematic, so here are some options to dispose of laptops, desktop computers, printers, tablets, mobile phones and all your other unwanted devices:

Give a gadget away. If something still works and is able to receive software and security updates, avoid committing it to landfill. Ask a relative or friend if they'd like the item instead.
Sell or donate to charity. Get rid of unwanted devices – and make money – on websites such as Gumtree, eBay, CeX or musicMagpie. Alternatively, hand in old tech to a charity shop to raise funds for good causes. WeeeCharity will pick up your gadgets free of charge. For your own security, make sure you wipe all your data from them first, and remove Sim and memory cards from phones. For other people's security, some charities won't take devices that are out of support, so do your checks first.
Recycle carefully. Some retailers such as Apple and Currys PC World will accept old tech and recycle it in store. You may even be able to get money off a new device or exchange your item for a gift card.
Tips for living sustainably
We're here to help you make choices on your purchases and waste this winter. Our guidance can help you work out your impact and how to reduce it. You'll find our advice on living sustainably on our site.
Live Sustainably
Dealing with larger appliances
There are plenty of options when it comes to ensuring a greener future for your old white goods. Even large items such as fridges and ovens can be recycled, so long as they're disposed of correctly. Here are the best ways to stay sustainable when getting rid of old goods:
Try going to a charity homeware store. Charities such as British Heart Foundation, the YMCA and Cancer Research UK will take larger items for their homeware-dedicated stores. Reach out to them via their websites, or contact a local store to find out more.
Let a retailer pick it up. Many retailers offer a paid-for pick-up scheme, where your old product is collected at the same time a new one is delivered. This can cost, though – typically around £20, plus a bit extra if your appliance is integrated. The appliance should then go on to a recycling centre.
Request a council large item pick-up. Many councils will collect one large item from you per year free of charge. Search your local council's website for 'large item collection' to arrange one and see how much it will cost.
Take it to a recycling centre. If you have suitable transport, you can take your appliance to a local recycling centre yourself. As before, make sure to check recyclenow.com to check what your local centres can take, as well as if you need to book a slot or take proof of address.