User guide
Finding your way around the guide
To navigate between pages, click or tap the arrows to go forwards to the next page or backwards to the previous one. The arrows can be found either side of the page and at the bottom, too (circled in green, below).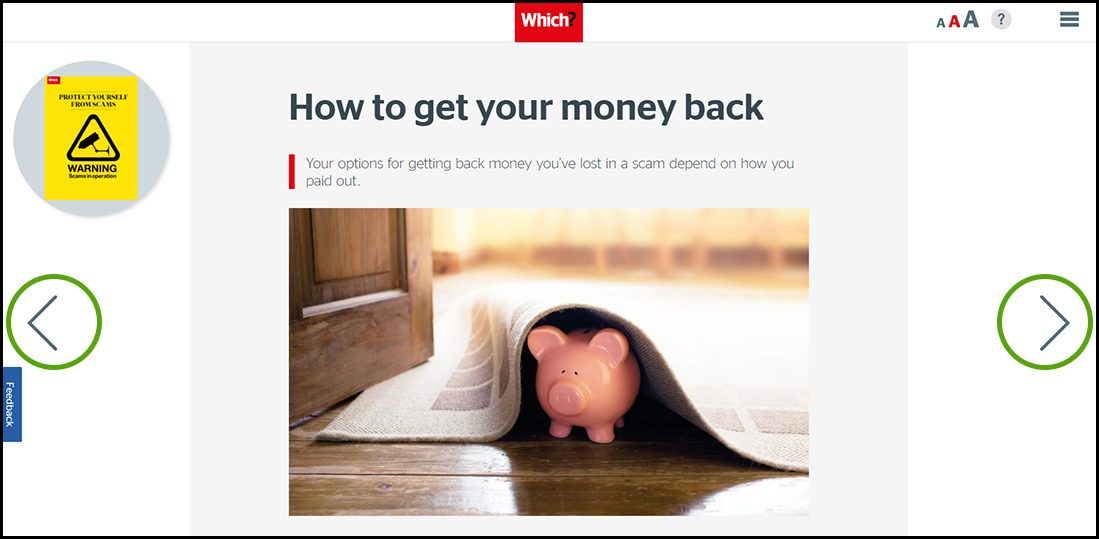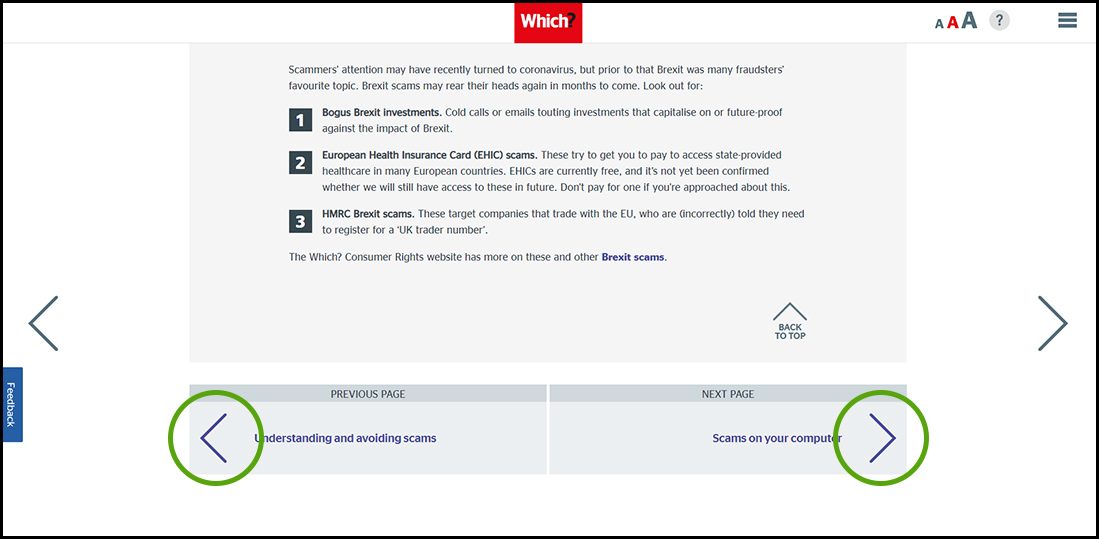 Menu/table of contents
Click or tap on the three horizontal lines in the top-right of your screen to open the main menu/table of contents. This icon is always visible whether you're using a computer, tablet or smartphone. The menu will open on top of the page you're on. Click on any section title to visit that section. Click the cross at any time to close the table of contents.
Text size
On a computer, you'll see three different sized letter 'A's in the top-right of your screen. On a smartphone or tablet these are visible when you open the menu (see above). If you're having trouble reading the guide, click or tap on each of the different 'A's to change the size of the text to suit you.
Pictures
On some images you'll see a blue double-ended arrow icon. Clicking or tapping on this will expand the picture so you can see more detail. Click or tap on the blue cross to close the expanded image.
Where we think a group of images will be most useful to you, we've grouped them together in an image gallery. Simply use the blue left and right arrows to scroll through the carousel of pictures.
Links
If you see a word or phrase that's bold and dark blue, you can click or tap on it to find out more. The relevant website will open in a new tab.
Jargon
If you see a word or phrase underlined, click or tap on the word and small window will pop up with a short explanation. Close this pop-up by clicking or tapping the cross in the corner.
Help
On a computer, you'll see a question mark icon in the top-right of your screen. On a smartphone or tablet this is visible when you open the menu (see above).
Clicking or tapping on the question mark will open this user guide. It opens on top of the page you're on and you can close it any time by clicking or tapping the cross in the top-right corner.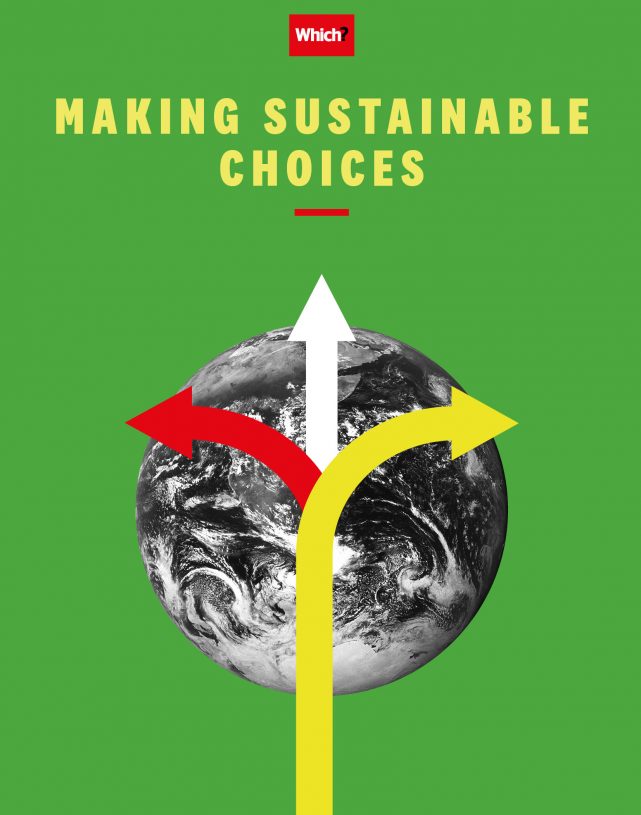 Your money matters
Did you know that your financial choices can fund or fight climate change? Discover ways you can make sustainable decisions for your money

While money isn't one of our five sustainability priorities, it's a big part of what we do at Which? – and a big part of all our lives. Many of us are careful with our cash, but what if you want to take your financial responsibility to the next level?
There are more and more options available to align your finances to your values. If you want to feel like your money is doing some good, but you don't want to fall foul of industry jargon and dodgy data, ask yourself some simple questions first.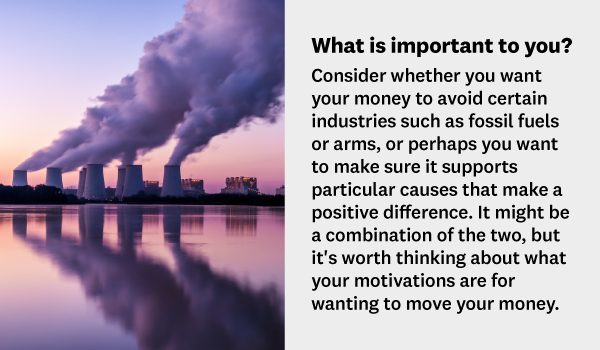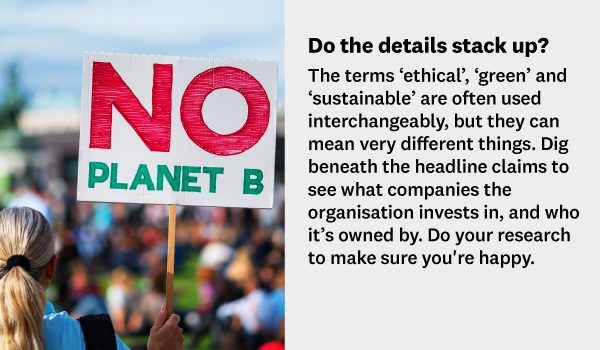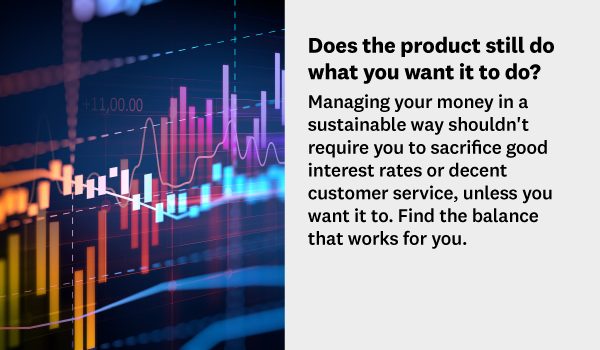 Banking and savings
Going green doesn't have to be detrimental to your finances. Far from it. Choosing to live a more sustainable life often means you cut back on travel and transport costs, you don't produce as much food waste and you avoid buying items you don't necessarily need – you might actually notice you save money.
So, if you have spare cash to put away, what are your sustainable options? Here are a few banks to consider:

Triodos Bank: offers a range of financial products, including a current account, instant-access savings account, cash Isa, a regular saver and a one-year fixed-rate bond. The bank uses savers' deposits to fund projects that it considers to 'make a positive and lasting impact on society, culture of the environment'. It also publishes details of every organisation it funds on its website, so you can make sure it aligns with your values.
Gatehouse Bank: recently introduced its Green Saver collection, comprising savings accounts and Isas. It says a tree will automatically be planted every time an account is opened and for added ethical credentials, Gatehouse Bank doesn't invest in companies involved in gambling, alcohol, tobacco and arms.
The Co-operative Bank: claims to be the first UK high-street bank to introduce a customer-led ethical policy. It does not provide banking services to organisations that conflict with its customers' views on a range of issues, such as human rights, the environment, international development and animal welfare, or those involved in irresponsible gambling or payday lending. It offers current accounts, savings accounts and Isas.
It might also be worth exploring the NS&I 'green' savings bond announced by the Chancellor in this year's Budget. The money the government raises from NS&I's green bonds can only be spent on certain projects, which include renewable energy, energy efficient buildings, preventing pollution, conservation of natural areas, clean transportation and wastewater management.
Ethical investments
For any saver who doesn't want to compromise their values and is comfortable with risk, ethical investing may be the answer. Consider getting advice – an Independent Financial Adviser registered with the UK Sustainable Investment and Finance Association can pick sustainable investments for you – or follow these steps to build your own green portfolio:

Choose an approach. Think about whether you want to exclude certain sectors altogether, or if you would prefer to invest in problematic companies in order to improve them. You can combine both.
Check the fund. Search for funds or trusts through your investment platform, through Morningstar or through Fund EcoMarket, a search engine for ethical funds.
Don't put all your eggs in one basket. Build a diversified and balanced portfolio with investments in different sectors, regions and assets, not just company shares.
Pensions and the planet

The estimated £3 trillion in UK pensions is used to fund everything from wind farms and essential government services to weapons and tax-dodging corporations. Whether you're concerned about climate change, workers' rights or simply want your hard-earned cash invested in well-run firms, here's how you can make sure your pension matches your values.