User guide
Finding your way around the guide
To navigate between pages, click or tap the arrows to go forwards to the next page or backwards to the previous one. The arrows can be found either side of the page and at the bottom, too (circled in green, below).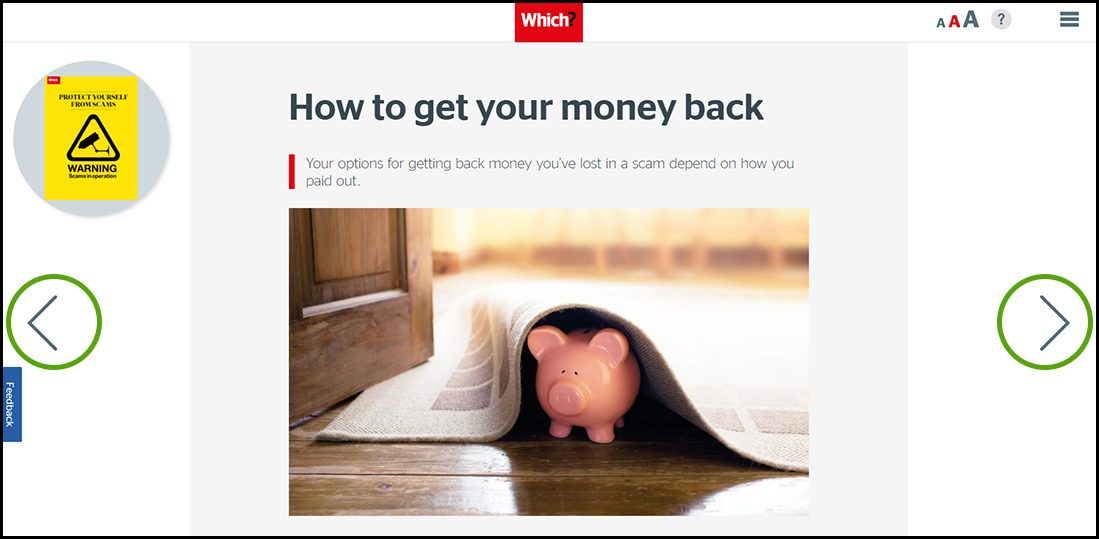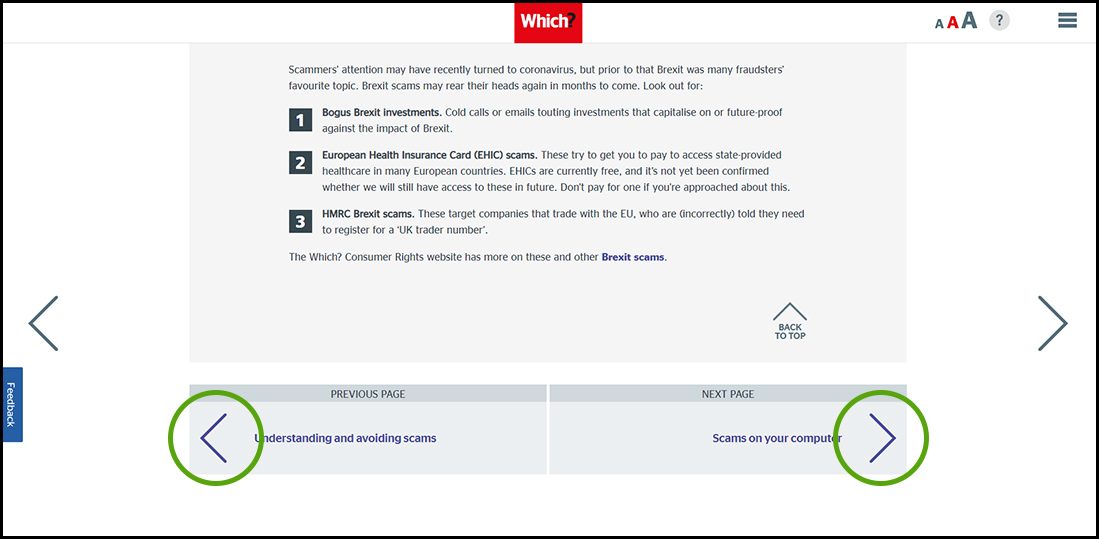 Menu/table of contents
Click or tap on the three horizontal lines in the top-right of your screen to open the main menu/table of contents. This icon is always visible whether you're using a computer, tablet or smartphone. The menu will open on top of the page you're on. Click on any section title to visit that section. Click the cross at any time to close the table of contents.
Text size
On a computer, you'll see three different sized letter 'A's in the top-right of your screen. On a smartphone or tablet these are visible when you open the menu (see above). If you're having trouble reading the guide, click or tap on each of the different 'A's to change the size of the text to suit you.
Pictures
On some images you'll see a blue double-ended arrow icon. Clicking or tapping on this will expand the picture so you can see more detail. Click or tap on the blue cross to close the expanded image.
Where we think a group of images will be most useful to you, we've grouped them together in an image gallery. Simply use the blue left and right arrows to scroll through the carousel of pictures.
Links
If you see a word or phrase that's bold and dark blue, you can click or tap on it to find out more. The relevant website will open in a new tab.
Jargon
If you see a word or phrase underlined, click or tap on the word and small window will pop up with a short explanation. Close this pop-up by clicking or tapping the cross in the corner.
Help
On a computer, you'll see a question mark icon in the top-right of your screen. On a smartphone or tablet this is visible when you open the menu (see above).
Clicking or tapping on the question mark will open this user guide. It opens on top of the page you're on and you can close it any time by clicking or tapping the cross in the top-right corner.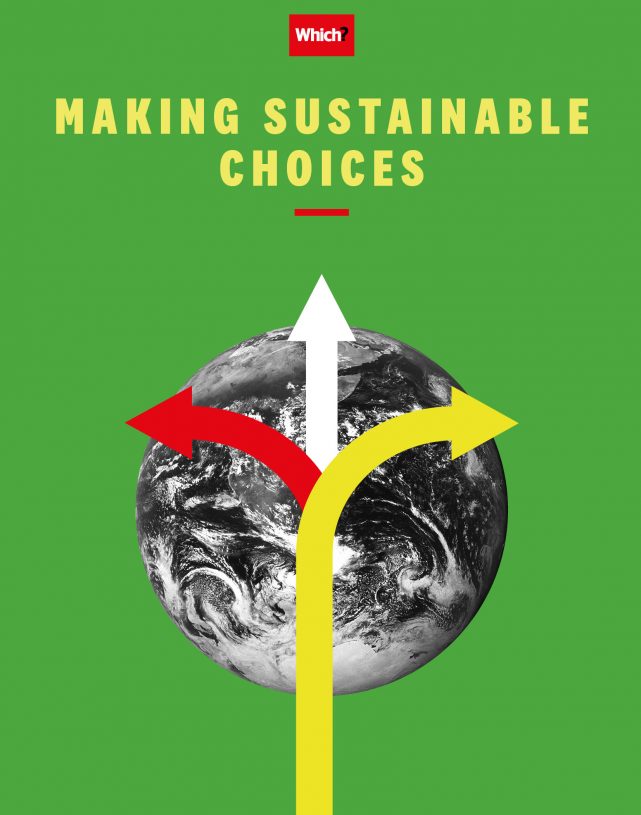 Pay heed to plastic
Reducing our plastic footprint requires a combined effort. Here's what we've asked of the supermarkets and what we can do as individuals

For a good number of us, it's now second nature to choose unwrapped apples at the greengrocers instead of those in a plastic wrapper and say no to a plastic bag when offered in a high street shop.
However, sometimes it feels impossible to avoid plastic and often there aren't viable alternatives, particularly at the supermarket. So, we've looked at what the big stores and the government are doing about the plastic problem. And while we wait for the day when fewer plastic items fill our baskets and trolleys, here's what everyone can do to help.

Reduce and reuse. Try to reduce the amount of plastic you're buying or using in the first place. Thirsty when you're out and about? Develop a new habit to take your reusable coffee cup or water bottle with you when you leave the house.
Repurpose the plastic you do buy, if you can. Prevent as much as possible from being single-use. Plastic is normally really hard wearing (the main reason it's such a problem for the environment), so put it to the test and maximise its potential.
Make simple swaps. There are some brilliant alternatives now to all sorts of household items where plastic was previously the only solution. See Everyday essentials for ideas.
Look out for refillable products. Handwash, washing-up liquid, laundry detergent — don't buy another container, opt for a refill instead. It's better for the environment and our recent research has highlighted that they're good news for your wallet too. Which? is urging supermarkets and manufacturers to make refillable personal care and cleaning products more widely available to customers. So keep an eye out and buy them when you can.
Follow the golden rules of recycling. It's certainly not easy to decipher what all the labelling on packaging actually means, but a few basic tips should help you to recycle correctly. See Wise up to waste for all the basics.
More tips to reduce your plastic footprint:
Good to know
It's encouraging to learn that straightforward changes in supermarket packaging can help to save thousands of tonnes of plastic from landfill. It turns out it can be as simple as tweaking the shape of your cheddar — and there are plenty of other examples of small adjustments making a huge difference.
Tesco announced in March this year that it's launching recycling points for soft plastics such as bread bags and crisp packets at 171 new stores and other supermarkets have followed suit. And did you know that you can recycle your disposable face masks at Wilko stores?
Expert view: working internationally
Ellie Simmonds, senior researcher and writer, Which?

The biggest issues also need the biggest solutions. That's why we joined forces with Consumers International to shine a spotlight on the global problem of unrecyclable grocery packaging for World Consumer Rights Day. Inspired by Which?'s previous recycling investigations, the project saw nine consumer groups across the world analyse the packaging of the same 11 groceries in countries ranging from Brazil to New Zealand. On average, 35% of the packaging weight could not be easily recycled. And it revealed big differences between different products and different countries. We hope this work will help to inspire much-needed change from manufacturers, retailers and governments.

Want to delve deeper into plastic packaging? In this episode of our Which? Investigates podcast, Greg Foot uncovers quite how much unrecyclable plastic there is and unwraps the surprising facts around what plastic could – or perhaps should – stay on the shelves.